Everything you wanted to know about the NZNF but were too doubled over in laughter to ask.
IGNORE POST DATE.



What follows is a compilation of ALL the NZ stuff which appeared in www.darpism.com. A more concise run down of this group will appear on the main FDB site soon.
____________________________________________________________________________________



FEB-APRIL - 05



The following post is something I've basically been bullied into doing on behalf of my countless friends on the other side of the Tasman. I mean, what better place to rip into the head of the New Zealand National Front than NSW's most popular blog?

That probably doesn't make sense does it? It will in time though I assure you. So, come with me as I give you a bit of background on the NZNF and their head honcho, the BIG Kahuna himself, Mr Kyle Chapman.



Choice Bro's.



As most Aussies are aware, the NZNF tried to stage an anti-immigration rally in Wellington on October 23rd last year. Here are a couple dozen of them looking hard.



Count em: 1,2,3,4,5....



And here are the combined forces of Multicultural Aotearoa who came together to oppose them.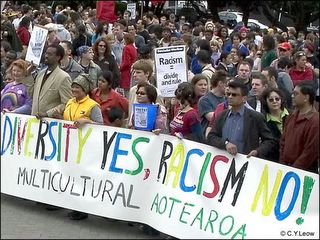 manaa ki a tia mai, Aotearoa (excuse bad Maori Spelling)



The day turned into the usual rout with the thirty Nazis being hounded out of town by two thousand protesters. A few of them also copped a solid caning as they tried to leave the city on the trains.

This incident spurred the NZNF on to label themselves as New Zealand's fastest growing political movement. Their president, Kyle Chapman (pictured below), went to great lengths to proclaim a membership of five-hundred people and growing. He spoke of massive recruitment success stories where whole white working class factories signed up to join the movement, the foreman included, in the space of a single day.



Hubba Hubba!



As the Sunday Star reported, when pressed to back up these claims of a membership explosion, Chapman says that the membership records are in Wellington (he himself is in Christchurch) and that he does not have access to them. With regard to their recruitment success stories amongst factory workers he is unable to name any of the workplaces or their locations. He says, "I don't know, he just went recruiting and brought back the membership forms."

Auckland University Political Scientist Raymond Miller has put forward the obvious proposition that what we're dealing with here is a small group of big-noting extremists trying to talk their movement up as something way bigger than it actually is.

Another Kiwi academic, Paul Spoonley of Massey University puts the NZNF membership at 100-150. Judging by the numbers they got at their most recent Feb 6 Waitangi Day protests, this figure appears to be accurate. They claim that nine members rocked up their Auckland do and that twelve people showed their faces in Wellington. Granted that these groups always inflate their actual attendance by a third, I reckon you could safely say that six and eight people turned up respectively.

Still, a lack of numbers doesn't stop Kyle Chapman talking things up. He posts as NZTROOPER on Stormfront and some of his most recent entries include a call for all Kiwis to be ready in case the gooks invade NZ on the back of a giant Tsunami.


Have amo and guns. Make sur they are legal. Make sure you know how to use them, cus when you have things to survive, someone who doesnt have them will want them and you will have to kill them to protect your own family.

We will be starting a pogramme in NZ to have food suplies and other equipment ready for disasters and any other problem that will come our way.

If you want some rank within the militia then join now and work for the good of all and get your rank through showing us what you can do for everyone.


YEEEEEP, like many a white supremacist nutter group in the backwoods of Appalachia, the NZNF have gone bush and taken to hoarding fire-arms and tinned food for a Y2K bunker that is five years too late. I bloody well hope that Wal Footrot knows these people are squatting on his land.

Kyle keeps up the tough talk by promising consequences and repercussions to ALL people who oppose the NZNF.


This is a clear message to all Lefty and Anarchists that support the left, we will be at your events, and what ever you do to our people will be done to yours tenfold. Some of you already know this to be true. A few more will know it as well.


Look at that pic of Chapman above. What is a man in his condition going to do his enemies? Eat them?

That's some pretty tough-ass black gangster talk for a white supremacist. Looking through all his pics, I'd be interested in tracing his Whakapapa, (Maori Lineage). Call it an intrinsic Maori sixth sense, but judging by his appearance, Kyle appears to be amongst the 30% of Pakeha who have some sort of Maori heritage. Of course, it's something that this dipshit would vehemently deny.

Chapman is one of those neo-Nazis who spends most of his time vehemently denying things. Despite a long and violent criminal history which includes the fire-bombing of a Marae (Maori meeting house) and having members of his NF linked with the desecration of Jewish graves, Chapman consistently denies that he is a Nazi.

Well, I wonder what he thinks of these pics. Kyle is bottom front row right.



Chapman, front row RIGHT,



Also, check out his mate openly wearing a swastika in this pic



Click to enlarge, Swastika guy is centre-shot.



See Chapman's response in this very funny excerpt from an article in the Dominion Post:


National Front president Kyle Chapman says a photograph of him with a
group of men performing a Nazi salute does not show the organisation is
fascist -- he did not know they were doing it.

The National Front disputes claims that it is a racist/fascist

organisation, but at a militia camp meeting in April Mr Chapman was
photographed with a group of saluting men, one of whom wore a swastika
armband.

Mr Chapman says the men had just arrived and he did not know what they
were doing.

"I didn't even know there was a guy behind me with a friggin' Nazi
armband on.

"Those guys had only showed up in a car and wanted to take some photos
and that. I only realised those guys were saluting when I turned
around."


HAHAHAHHAHAHAHAHAHHAHAHAHAHAHHAHHAHAHAHAHHAHAHAHHAHAHAHAHAHAHAHAHA. Yep, I'm sure most people involved in a politicall contentious organisation would consent to pose for a photo without knowing who else is in frame.

Many Kiwi journos have noted the fact that Chapman ALWAYS wears long sleave shirts and refuses to have photos taken of his Iron Cross tattoos which poke out from his chubby forearms. Makes me wonder what other suspect symbols he has painted over his heavily tattooed body.

Again, he should check his Whakapapa, I'm sure he's entitled to a proper Moko.

Of course, Chapman now states that his violent skinhead and criminal past is something that is far behind him. He claims that his actions were those of a youth with alcohol problems and states that he attends AA meetings and has also found Jesus.

The latter bit may be a bit of a problem considering that Kyle isn't actually the brains behind the NZNF, he is merely the public front. The brains belong to the NZNF Secretary, a self-confessed Satanist named Kerry Bolton (pictured)



Wannabe Anti-Christ.



You can download a good interview with Bolton here. It's strange and spooky stuff which might do your head in a bit if you don't like reading about the Occult. Here is the money quote:


Did your involvement with Satanism affect your present activities in any negative way, for instance bad press coverage?

The press and intelligence gathering agencies, whether private or State, are easy enough to befuddle. I have had no adverse effects from prior involvement with anything.


I've been scratching my head quite a bit as to how a born again Christian and a self avowed Satanist could form any sort of productive alliance. According to the good people at Multicultural Aotearoa, the rank and file of the NZNF absolutely HATE Bolton and are quite spooked out by all his blood-drinking witch doctor shit.

There was also a very interesting scandal in recent times when a journalist uncovered links between Kerry Bolton's Satanic mail order business and a Child Pornography distribution ring.

So, lest to say that things are a bit tense between the rank and file and their Grand Satanic Overlord.

Bolton serves his purpose. As one of the only people in the NZNF with the ability to string a coherent sentence together, he is in charge of producing all flyers, posters, stickers and anything else that needs the correct spelling.

When you look at Chapman's ability to spell even the most basic of words, it's obvious why they tolerate Bolton hanging around.

What follows below are NOT typos. To make this list, all of these words were misspelled twice or more. I have also taken into account that some of these words may have been spelled in a phonetic Kiwi accent, ie fush end chups.

For more examples, just check out the NZTROOPER link above. Keep in mind that this guy is 33 years old.


seriouse
excusses
worrie
haveing
begining
enimies
Transtasmin (Possible Kiwi Phonetics)
movemnt
conected
moderater
arguements
seriouse
ceurcumstances (This is my fave)
exicuted (Kiwi phonetics again?)
independent
contraversy
traiter
enimy (KNOW THINE ENIMY!)
exilent
diciplin
tasmin
counsil
posible
Governemnt
Rebeleouse (WHAT THE FUCK?)
usualy
steped
peacefull
dispearce (DisWAYNEpearce is a shit coach)
trafic
moari
blaming
Your a true worrior. (too right!)
Devided
instigaters
Forign
artcicles
Comming
beleive
forigners (Yeess, forigners like Lou Ferigno!)
hungrey
traiters
beyound
soal (May God have mercy on their soals)
refugeee
Programe
opresive
suplies
devided
moveing
recomend
somthing
vigilent
actualy
beelifs ("The Beelifs in the courtroom" or "the Beelifs in Satan"?)



I know that the typical Nazi response to anything highlighting their lack of intellect will be met by the usual "Im whitte wurking klass and had to wirk in the dirt faktori and dont com from a posh ritch scool where I yoo drink chardonaye at lunch."

Well buddy, I'm working-class and state school educated. Maybe the reason you blokes have such consistently bad spelling and poor argument formation is because you're all basic natural dumb fucks?

Dumb ass pricks they may be but they're still worth keeping an eye on. Chapman and Bolton have plans to expand their NF into Australia and unite all "Wite bruthers acros the tasmin" into a unified force. This is a bigger issue and naturally, law enforcement bodies, Unions and activist groups on both sides of the "tasmin" are keeping an eye on things.

And so they should. As Chapman says,"There was (sic) lots of people contact me and get exited (sic) about this idea last time." I'm sure the fuzz are taking him seriousely and beeliff every word he says.

____________________________________________________________________________________



The Nazis Turn Nasty.



This is my longest and possibly most juicy blog entry to date.

It seems that my post regarding Kile Chipmunk (Kyle Chapman) and the NZNF has ruffled a few feathers across the

Tasmin

.

You all probably saw that threat left on my comments engine:


One by one, everyone in this crusade of yours will be held to account before you are. I'm sure you know that's the way these things work in the grown ups world. Can you live with the guilt? Will will start at 'W' and work our way back alphabetically through every smartarse who ever graced this blog.

You have 24 hours to remove the post and stop the bravado. Do not underestimate what you're up against just because you're yet to get your hands dirty.

This is your last warning.


Pfffft. I'm used to that shit. Throughout school and university, on the footie field, home life, in the workplace and in relationships -

I AM ALWAYS on my "last warning".

I guess I've led a John Hopoate/Julian O'Neil kinda life. Threats and warnings don't affect me.

As many people are now aware, The New Zealand National Front is frantically trying to expand into Australia.

The Australian neo-Nazi scene has always been very fractured with various groups usually spending more time ripping into each-other than they do trying to promote the aims of 'the movement'. It was a similar case in NZ until the National Front came along and helped unite the disparate factions underneath a single banner. It is this miraculous unification that Kyle Chapman and co are hoping to repeat in Australia.

Unfortunately for them, the Aussie scene amongst the established nationalist activists has proven to be too fractured and divided. Blood feuds between the old Australian Nationalist Movement crowd and Saleam's people (PYL) are too long and hate-filled to overcome. It's the same story with the Stormfront Downunder regulars and splinter groups like the White Pride Coalition of Australia.

It's a messy situation. The WPCA has even splintered further apart after one of their "Beer and Pizza nights" almost turned into an almighty punch-up with Army blokes threatening the "founders" of the group with Maglite torches for refusing to pay the $20 cover charge.

Basically, the WPCA end of the 'movement' make the PYL look like Resistance.

So, insofar as the older generation of Australian neo-Nazis is concerned, reconciliation and unification under one banner simply isn't going to happen.

Kyle Chapman recognised this very early on. He considers the NF in Australia to be a long-term investment, something that isn't really going to come to fruition for a number of years. Rather than waste his time trying to get the older generation of Aussie Nazis to see eye-to-eye, Kyle has decided to get em whilst they're young!

And here, comes the money line:

Kyle Chapman, the head of the New Zealand National Front is actively recruiting school age Australian children into his organisation. He is providing logistical support for these kids by sending them " NF starter packs" to be circulated at their schools. He is sending over NF t-shirts and provides regular advice on recruitment and training.



Scattered and weak (as piss).



All of the information collated here is part of a wider investigation currently being pursued by a number of media outlets. Due to the fact that I uncovered this story and that no binding contracts have been signed with anyone – I have decided to stamp the importance of blogging as a media tool and break this story on Darpism.

Blogging IS the future, believe it.

Chapman's two major Australian recruiting agents are both based in Sydney. Let's look at them individually.

The first guy goes by the aliases of GenGoobs (on Stormfront), White Goobs (NFY Forum) and Whitepride_au (WPCA forum). For simplicity's sake, let's just call him 'Goobs'. This is the guy responsible for officially setting up* the Australian National Front Youth.

(All links with an asterix are password protected, you'll need to join up to have a look.)

He says:


WhiteGoobs
Administrator
Posts: 104

TOPIC: Changes
« Thread started on: 12/11/2004 at 06:28:50 »
After a discussion with Kyle, we have the new name and also a main affiliation with the National Front. So our basic official name as of yet is "The Australian National Front Youth"

Australian National Front Youth

Hail Victory


He reiterates this information on Stormfront.

So, who is this kid? What exactly does he believe in? Well, he most certainly thinks that Adolf Hitler was a great man.


WhiteGoobs
Administrator
Posts: 104

TOPIC: tone it down
« Thread started on: 12/15/2004 at 06:00:44 »
For the sake of image of the National Front and WNs we are all going to have to tone the nazism. Whilst i understand that hitler was a great man, it gives the left more ammo to use against us.

Australian National Front Youth

Hail Victory


He also fancies himself as a bit of a tunesmith, this song is apparently meant to be sung to the tune of It was a very good year (the Sinatra tune).


White Pride Song

We have travelled far
Oh so very far
Through the treachery
That we now see
From that disgrace
They now call our race
But soon we'll be
Strong and free

Chorus

White pride…
White pride…
White pride …
White pride…

We have strong will
That they can't kill
We have our pride
We shall not hide
Say we're uncouth
To hide the truth
But we'll succeed
And they'll bleed…..

Chorus


They will bleed? Ok, there's a fair bit of pre-meditated violence in that line.

His best work comes from his Stormfront postings. He believes that Mein Kampf is "the most important book of all" and that there is nothing wrong with Nazism.

He most certainly loves to spread the gospel at his school as well, (incidentally, he brags about attending a North Shore PRESBYTERIAN Private School with a Bagpipe band - there is only ONE such school that fits this description)

And Goobs wonders why journalists from the North Shore Times keep emailing him.


WhiteGoobs
Administrator
Posts 104
TOPIC:Beginning of new Term
« Thread started on: 01/30/2005 at 10:53:25 »

Here it is, the start of a new school term.

I am hoping very much that all of you do as much recruiting as you possibly can. However I strongly advise that you do not advertise your racism to any authority nor people who you know will get you in shit. If you are going to recruit do it subtly and don't force anything on your friends. Stickering your school might be an idea, but don't do it if it can be easily traced back to you (obviously).

How to recruit


Here are some basic pointers on how to recruit fellow white youth to our movement.

• For the sake of ease and time saving find those that have been beaten by non whites. It may seem that you are picking on the weak but it is best as you can slowly awaken them to the truth of our nation while they actually listen.
• Put up stickers in areas that are where youth hang out or where you often see youth. Make sure you put them where they actually stop, such as traffic lights or bus stations.
• Make and example, show the rest of your school mates that you won't stand for the shit that the muds are giving the white kids.
• Don't be too full on, so don't heil Hitler them all the time or anything, as I said before you have to ease them into it otherwise they'll get scared of the possible consequences and then want out.
• Concentrate on things that you know will affect them, such as what if a gang of lebs raped their sister etc. and make it obvious that if he joined you'd be able to stop that.
• Once you have some mates or you have recruited some people try to get them to recruit others, and then get the new recruits to recruit, so you basically have a network of people recruiting, which should (in theory) expand the population of WNs.

The trick is to ease it onto them, and if they show signs of dislike, then cease pushing the issue until you feel you can convince them again. If that doesn't work, every so often show em some propaganda or something like that, hey even quotes from the talmud, and trust me when i say they'll see the light.


I really don't think the posh North Shore Private school in question is going to tolerate the continued presence of a student like this. I mean, considering some of the other stuff he has been saying.


"I have a celtic cross on my school bag, i constantly hitler salute and i write sieg heil, white pride world wide etc. over desks, books, people, basically anything i can."

"i'm gonna go nazi salute outside a jewish templely thing."

"If we get other races to accept our opinions then they may believe in their own seperation from other races. This will help us achieve our goal, and will make it easier to kill all the dirt (i.e. the jews) as no one will want to defend another race, especially the jews. It will also allow us to be more public if nationalism is supported by other races."

"Then i'd kill em if i had nothing to stay out of gaol for. Anyone of European decent is fine with me."


This kid isn't just your average armchair racist, he doesn't just think these sick thoughts, he brags about getting out there and violently acting upon them.

(YES, all major Jewish organisations have been tipped off about this character.)


"I had a party and there were some whiggers up the street (everyone, and i mean EVERYONE wants to come to my parties, its full annoying) so i got some friends together and we were gonna go bash them."


And this


we need armies of vigilante skinheads. I'm sick of being called a delinquent who only wants to fight. I want to fight yes but not just for fun, but cause ITS THE ONLY BLOODY WAY!


This next quote is the one that really hangs him as a typical gutless skinhead thug.


Do u seriously think i mean one on one? I'd share the fun. Plus i'm not gonna attack one guy, who wouldn't be one guy cause they hang around each other like antelope at a watering hole. They aren't making the fight fair in the government so why should we make it fair on the streets.


There you have it, an admission that this guy is prepared to partake in a typical skinhead gang attack. TOO GUTLESS to stand on his own two feet and take on someone mano a mano. Useless prick.

The Australian National Front Youth is co-managed by a guy going by the name of "Iron brotherhood". You may have seen him posting the odd rant here.

I guess this whole shitfight kicked off the day he added himself to my MSN messenger and began to cut loose.


Darptics says:
So who the fuck are you? A gang of five or something?
Ironbrotherhood says:
Hardly, we are a strong unit and we are going to be very active in your area.
Darptics says:
Oh purlease.
Ironbrotherhood says:
We will be helping out the PYL to show you what we're made of.


Ironbro is the main guy on the receiving end of the 'starter packs'* from the NZNF. He says,


I am working like a dog to get this going,its been a mother to get those NFY shirts over and still havnt because of problems with currency between kyle and myself.
In my school racial issues are going nuts,people are walking round with hitler youth flags on their folders and are recieving "starter packs"of stickers and flyers and mags for them to be interested.Copies of "my awakening"are being requested aswell.
I am full on this Darp guy,he wont rest until he has me personally pissed on.If this thing has to go quiet for awhile online atleast then i wont be to worried.It seams as soon as online input is gone,like when i had my computer in the shop,he goes away and thinks you have"dropped out".He will get a good surprise one of these days


Now, considering the knowledge that 'Goobs' was presenting himself as an openly violent skinhead thug and that his sidekick Ironbrotherhood was now basically threatening to get active in Eastwood/Epping, what choice did I have? These guys are actively promoting and spreading race-hate propaganda in Aussie schools. Propaganda supplied to them by the NZNF.

SOMONE had to do something about this. Of course, that someone was always gonna ol' Darpie.

It was time to go to the mattresses again (watch The Godfather if you don't know what I'm talking about).

With my newly formed coalition of Bloggers, Unionists and Greens - we began scouring the web for as much information we could on these guys. We uncovered the links to the New Zealand National Front easily enough and we also found out that these guys were planning to do a flyer day in the Sydney CBD (27th Jan).

We set up a few fake accounts on Stormfront and contacted Ironbrotherhood to find out the location of his "rally". I mean, if these guys are members of a skin gang who are planning on being 'active in my area' I have a civic duty to snuff them out. Sod it, I've got a duty to everyone in Australia and NZ who wants to live lives free of race-hate, racial violence and bigotry.

On the day itself, our guys (well, they were women in this case) managed to get a couple of good surveillance shots of Ironbrotherhood as he rocked up to Town Hall Steps.

Iron? The guy turned out to be a 40kg dweeb. In serious need of some spinach to up his iron count if you know what I mean.

Still, at that stage, we didn't have any solid details on 'Goobs', (but we do now baby!) the guy who digs an unfair fight and wants action NOW! We contacted Ironbrotherhood and informed him that we were aware of his association with the New Zealand National Front and we were also aware of some of his other slip-ups online. I mean, the guy posted his real name and home suburb. We told him that we hope he grows out of this racist phase and concluded by telling them that as investigative internet journalists, we WILL be running this story about the NZNF recruiting Australian kids and yes, his online identity will probably be revealed.

We informed him that as a politically active person, he was putting himself out in the public eye and was fair game for the cameras. He went to Town Hall steps to meet up with fellow neo-Nazis, THAT makes his photo fair game for the media.

Fairly standard journo fare really - "We've got this story, we're running it, and would you like to comment?"

After going very quiet for a few days and discussing this turn of events with Kyle Chapman, Ironbrotherhood replied with this email.


From : Iron Brotherhood
Sent : Monday, 7 February 2005 10:55:37 AM
To : yougotoofarmathew@hotmail.com
Subject : RE: wassup?

In response to all your questions i guess ill let you do a bit of digging.I aint gunna lay all my cards on the table.I guess you will have to make up new plans to take us down.

I have been talkn to a youth liason officer,she came under the impression that someone threatning to post pictures of someopne and calling them is freaky.Maybe you have a taste for young boys?Is that why you have gone after the PYL now the NFY?
Wow i never thought of those possibilities,maybe Darp is infact a Pedo!
Now thats a can of worms i would love to unleash if darp wants to "play ball" ;)
talk soon buddy


As you can see, what we have here is a clear case of intent to defame. That's not exactly the correct legal term, but you get the drift - the strategy passed down persumably from Kyle Chapman to these kids was to use the threat of publicly labelling me as a "pedo" in order to prevent me from forwarding this story to the media (with photos) and publishing it here.

It stinks of desperation on bahalf of these guys. Any expansion of the NZNF into Australia will basically be snuffed out once their two chief recruitment guys are exposed. I'm sure I don't need to highlight the media frenzy that would surround the whole "Private School Nazi" issue. Likewise, Kyle Chapman was aware that he would be exposed in the Australian media for what he is; a twisted bitter old Nazi who is preying on the adolescent prejudices of Australian high school kids. Shit, if anything,

HE

is the one who looks like a frigging paedophile!

I don't think Aussies will take too kindly to a top Kiwi Nazi poisoning the minds of Australian Youth.

Chapman, for his part decided to up the ante in the blackmail/threats of defamation stakes. He sent me this email last night (all spelling errors left as is)


From : Kyle Chapman
Sent : Thursday, 17 February 2005 7:22:24 AM
To : yougotoofarmathew@hotmail.com
Subject : I here you like Little children.

Its going around you are a child porn freak??

Is it your way to feel strong?

Easy to feel strong when your on the internet and when your with little kids issnt it you freak!!

Information is being sent to the authorities.


Yawn.

You may be wondering why I haven't broken this story earlier. The advice from my legal representatives was to hold off putting up a flag until these guys did something REALLY defamatory. Sure enough, the shit started to come thick and fast after I posted my NZNF article. Ironbrotherhood hit my comments engine with a couple of comments that kicked off their defamation of Darp parade.

My motherload came this evening when I did my nightly walk through the White Pride Coalition of Australia forum. That's the main hangout of Ironbro and Goobs.

Ironbro posted the following entry and image.


ironbrotherhood
Sydney Nationalist

Join Date: Dec 2004
Location: Western sydney
Posts: 63
Darps a Pedo
Alot of talk has been buzzing around about Matt Hendersons "kid fiddler"ways.The NZ NF are really going to town with this news.If Darp wants to take on the wpca,i suggest we use this info well.

Click to enlarge and guffaw.



Sheesus, they can't even spell correctly when defaming people.

Laughable though these desperation tactics are, I still feel it pertinent to get on the record and state that I'm actually not a 'pedo', have no criminal convictions for ANYTHING have and have never been the subject of any police investigations whatsoever.

I've "confessed" to some fairly out-there stuff on this blog, mostly stuff to do with my shaving regimen, but to accuse me of being a "self-confessed pedo" is asking for your bank account to be cleaned out pronto.

There IS the slight chance of a stitch up but these guys are hardly the CIA. I don't suspect they've been able to plant anything on my PC.

When you take on dipshits like this, things of this ilk are to be expected. I didn't take on this gig thinking these guys wouldn't hit back with whatever is at their disposal. The fact that they've resorted to bumbling blackmail, fabrications and defamation shows that they don't have much.

Hell, I didn't even plan to take on 'this gig'. I just wanted to get the PYL out of Eastwood and things have just snowballed from the local level, to the national and now the international. I've never consciously set out to be a champion of Australasian multiculturalism. To me, the natural progression of this campaign onto bigger and badder racists just seemed like the right thing to do.


When evil men plot, good men must plan. When evil men burn and bomb, good men must build and bind.
- Martin Luther King Jr


Gradually, everyone began to rely on me more and more for updates on what was happening in the world of neo-Nazidom, began looking at me more and more for leadership and direction. Without consciously thinking about it or planning anything I've just found myself at the head of the column, ready to engage the enemy.

Anyway. Enough messianic posturing.

The blatant stupidity and legal ignorance of these people is well known. I honestly believe they expected me to back down and allow them organise and recruit rather than risk any public mud slinging. Hell, Ironbro's email blatantly uses a pre-emptive context, he says "I never though of it before, maybe Darp is a Pedo, that is a can of worms I would love to open."

That initial threat, combined with their acting upon it by publicly posting that JPG gives us a clear case of defamation of character.

I am encouraged by my legal position and also bolstered by the fact that in the overall scheme of anti-racist campaigns, shit like this is relatively minor. Not many people know this but as a sixteen year-old living in the American midwest, Weezil copped a flaming cross on his lawn courtesy of the KKK. This wasn't because of any overt campaigning he was involved in, this was simply because he deviated from the norm and wasn't publicly racist, unlike the majority of people in his area. For that deviation, he was targeted.

My legal eagles are ready to roll like Optimus Prime on this one. I am so bursting with the desire to tell you all who will be representing me but at this stage, they would prefer it that they remain unknown until the big day. Let's just say it's a big name, and defamation suits are his game (and he doesn't like Nazis).

There may be other shit going through the courts as well. On Wednesday morning I received the following anonymous letter. It came through Aussie Post and was sent from somewhere in Sydney. (excerpts only)



Dear fist-fucking, shit-dick scum

I hope I made you choke on that glass of your lover's enema water.

You crossed the line and went well beyond the pale when you decided to bully young kids who you know support us. But I put you on warning here, should any of these National Front Youth kids cop a hiding from you or your Union thugs, there will be nowhere for you to hide, FUCKING NOWHERE!

Going to school in Bankstown in the Seventies, I am something of an amatuer pugilist myself. I relish the prospect of skinning my knuckles on your half-bred head.

You can consider yourself warned that the WPCA lads are an ENTIRELY different prospect and you bring your shit to OUR door at your peril. But hey, you ARE a real hard case aint you? I heard you are a boxing instructor who teaches Abbo's how to box? THAT'S responsible isn't it? About as responsible as teaching Arabs the finer points of bomb-making. What? You want them to be able to bash white kids for their lunch money more EFFICIENTLY?



Memo to the WPCA: I'm straight and my lover really isn't partial to enemas. Well, I can't say I've ever really raised the topic with her.

Again for the record, the only threats of physical violence are those originating from the WPCA/NFY/NZNF side of things. NO one was threatened with a "hiding" from my end. I say that more so to the WPCA/NZNF older hands. Understand that anything Goobs and Ironbro told you is 99% full of shit. They're running scared little Nazis who want to be the ones to import the success of the NZNF into Australia. Sadly, they didn't count on the consequences of this information being publicly exposed.

I opened the envelope very carefully (as advised by Mike Jericho AND Andrew Wilkie) and got the letter down to Eastwood police for finger-printing. Still waiting to hear back, but if the person who sent this was smart enough to post from an relatively anonymous post box, they would have been smart enough to wear gloves when putting the letter together.

It's obviously from the WPCA. Their main organiser, "Kromlek of Asgard", a guy who writes in a very similar style to this letter has absolutely let rip on his fellow nationalists for their failure to come after me in numbers.


Kromlek Kromlek is online now
Administrator

Join Date: Dec 2004
Posts: 189
Take a LONG HARD look in the mirror.....
NO apologies for what follows. This is a major BITCH!!!

Unfortunately when I call upon many of the square jawed heroes (no names mentioned, to protect the guilty) of the White Nationalist 'Movement' in Sydney to form a posse they appear to have an endless list of excuses NOT to do anything and frankly I am fuckin' SICK of it to the point of despair. They are 'away' that evening, they are home tonight washing their hair, babysitting their neighbour's aardvark, putting lard on the cat's boils, giving their budgie an enema, stricken with sudden and acute diarrhea etc etc.

This Lefty maggot will sneer at us and laugh its fake tits off unopposed because WE cannot muster even a HANDFUL of people, FAIR DINKUM blokes with gonads swingin' between their legs, to oppose him! What? You people want to bend over, grease up your ring piece and have this filth fuck you up the arse?

I have done a call around regarding this creep and tried my best to spruik up some enthusiasm but have been met with monumental apathy, inertia, silence and excuses. I detect NO real sense of anger or motivation to act against this tremendous threat to our movement. I am heartily SICK of it all. I am SO close to fucking snatching it through absolute disgust!!!!!

Listen to your C.D.'s, watch your movies, re-tell those old war stories, get pissed, fall down, cry .....whatever.....

I am getting a strange sense of nostalgia. It reminds me of when I was new to the scene and was trying to get something started and realized VERY quickly if I wanted to see something happen I would have to do it MYSELF! Fair enough then. To the tune of 'Only the lonely' I will strike out again on my own. So be it…..

For those of you reading this who know IN YOUR HEART that this is not directed at YOU I say HELP YOURSELVES, SAVE YOURSELVES, SAVE OUR RACE!!!!!

Volunteers please contact me via P.M. or E-Mail.


It's great to see that these people realise that in a tolerant multicultural society, their days are well and truly numbered. It's also rather flattering to see that I'm perceived as a "tremendous threat" to their movement.

You betchya arse I am.

In conclusion to a long and very drawn out post, I would like to unveil the name of this mysterious coalition of Aussie & Kiwi bloggers, Unionists, Greens and other assorted pro-Multicultural Activists.

Ladies and gentlemen, get ready to FIGHT DEM BACK! The Multicultural Aotearoa Coalition have officially come on board in recent days as have the Maritime Union of New Zealand, Wellington Indymedia Collective and the NZ Federation of Ethnic Councils.



He Tuke mata ano to te Taonga

- Fortune favours the brave.

Nazism, fascism and the like have long resided in the trash-can of history. I guess it's finally time to take out that trash for collection. Once and for all.
___________________________________________________________________________________



UPDATE - 19.2.05 2PM



There is major flurry of back channel negotiation being attempted on behalf of Nazidom. Some of this is fair, reasoned and seeks only to bring an end to hostilities. Kromlek has removed the defamatory material from the WPCA web forum and has issued the following statement.


Kromlek
Kromlek is offline
Administrator

Join Date: Dec 2004
Posts: 192
DARP
Okay so at the risk of appearing to do a back-flip here goes. I have decided to close the thread on DARP and remove the thread which slandered him and I know I MUST offer an explanation. Particularly after the way I came on so strong on the subject myself.

I received several E-Mails from Darp and was actually impressed with his up-front honesty re: the likely trouble that would follow a head to head clash with the WPCA. Whatever I think about his politics I will say ONE thing. I believe he would (and WILL) prove to be a formidable adversary. He CERTAINLY has heavier legal guns.

It is clear that he and/or his agents monitor our Forum and Website closely so this post is directed at them as well as you folks. I am more than willing to get off his case provided he desists from any further threats to minors and is happy to let us agree to disagree.

BUT. If the young blokes who are our friends should again be subjected to harrassment then, to use the vernacular he so favours, it will be 'game on'.

Anyone wishing further explanation about my decisions here may E-Mail, P.M. or phone me.



Some of these negotiations are just downright bizarre with people promising to "tell all" they know about certain groups and individuals in exchange for keeping themselves out of the media spotlight (and in school). Shit, if people are going to volunteer this kind of information to me willingly then fine, but I sure can't be bothered extracting it and have not been making any attempts to.

As for any deal making to keep certain people's pictures out the papers. I dunno. That was a pretty sick, twisted and defamatory campaign that these guys launched against me and right now, I don't really feel like negotiating. I feel like going for the jugular and finishing this off.

That and well, following through on this with balls of steel will also ensure that NZNF poison is eradicated from Australian schools. Hell, Chapman and co won't have the financial capacity to buy themselves a six-pack of Speights when I'm done - let alone fund a recruitment drive.

Weezil is again standing shoulder-to-shoulder with me on this one as he himself has been the subject of numerous threats and blackmail. Check out his response.
_______________________________________________________________________________



UPDATE 2 - 19.2.05 5:25PM.



It just keeps getting better.

This next bit of news is actually a week old but considering the state of play, I thought it best to air it.

The Australian National Front Youth (Goobs, Ironbrotherhood etc) have officially merged* with the Patriotic Youth League.

Again, these are passworded links. Here's what Goobs had to say.


Poll Question: Do you have a problem with merging with the PYL
Yes (0%)
No (100%)

Author
WhiteGoobs
Administrator
Posts: 104

For the Sydney people
« Thread started on: 02/10/2005 at 07:08:41 »

I've made my decision, but i'd like it if you guys did as well so i know whether your going to join the PYL or whether you want to stay.

Australian National Front Youth

Hail Victory


Goobs then goes on to introduce himself on the PYL forum.


Author
Goobs
New Member
Posts: 1

TOPIC: Hi
« Thread started on: Feb 16th, 2005, 03:42am »

G'day I'm Lachy from northern sydney. I've met and talked to Andrew (Wilson) a bit we've got some ideas etc. Good stuff.


PYL president Stuart McBeth replies,


stuart
Posts: 49
Re: Hi
« Reply #1 on: Feb 16th, 2005, 7:03pm »

Hi,

Welcome. I have heard about yourself and outstanding work in youth nationalism.


We are extremely happy to have you on board.



Stuart


Well of course the PYL are extremely happy to have Goobs on board! Here is a guy who by his own admission "constantly hitler salutes", writes "sieg heil(sic), white pride world wide over desks, books and people". Here is a guy who brags about doing Nazi salutes outside a Jewish "templely thing." He is also a self-proclaimed violent skinhead who doesn't believe in a fair 'one on one' fight and who brags about how he LOVES to fight.

Take these examples from the WPCA forum (passworded). Apparently Goob's brother had a run-in with a Pakistani and young Goobs was is quite ticked off:


whitepride_au (Goobs)
ANFY Member
Join Date: Dec 2004
Location: Sydney
Posts: 77

I don't like how some of you are saying that it's my brother's fault in anyway shape or form.

But

yea i'm going to cause pain to every paki i see the opportunity with, innocent or not.



the thing your talking about was my plan to bottle a different paki.

I plan to do it so that it can't be in anyway connected to me.


__________________
Australian National Front Youth

Hail Victory



I'm sure you can all see why Stuart McBeth is "extremely happy" to have this person as a member of the PYL. I mean, Stuart is correct, look at all the "outstanding work in youth nationalism" that Goobs has been undertaking. He will fit right into the "non racist, non violent" Patriotic Youth League. Perhaps he can figure on Stu's current speaking tour?

Ironbrotherhood for his part has been in bed with the PYL for months. Check out Flashman's video from our counter-demo against the PYL. Ironbro is the guy in the white cap hanging out with the PYL's Sydney rep, Andrew Wilson.

You can also listen to Ironbro saying "Triple J never give us a fair go" on the second of our two Hack articles on the J's.

Our counter-demo rattled the fucker a fair bit, as he states on the WPCA forum:


ironbrotherhood
Sydney Nationalist

Join Date: Dec 2004
Location: Western sydney
Posts: 62
Exclamation PYL taken by surprise

To cut a long story short Someone

(ie, ME - ed)

found out info of this secret demo and put it up on indymedia, we were not prepared and we were taken by surprise.Watching around 40-50 reds marching down the street chanting"nazi scum" with a megaphone and placards was crazy enough.

They took over our meeting place and me and the fellow nationalist thought it be a good idea to move on before we end up in a world of trouble.

I think it needs to be a lesson, we hadnt the slightest idea we were being watched by reds in the park on mobile phones telling others where we were,reds taking photo`s of us,bring some sunglasses(i wouldnt be surprised if i end up on the green left weekly

We got beaten,ill admit that.
But lets hope that in future the pyl and the WPCA can help each other out in demo`s?
I now know the rush and adiction taking it to the enemy can cause.Lets hope more of it can occur.



Yeah well maybe Ironbro and Goobs should stop and think of the

consequences

of "taking it to the enemy." Racism of any form doesn't go down too well in our society but the extremist branch which they adhere to certainly doesn't assist one's career prospects.
___________________________________________________________________________________



UPDATE 3. 20.2.05 - 12:54AM.



The Australian National Front Youth Forum has been wisely taken offline. Apparently, this is due to "financial reasons." Strange, considering it's a free message board and all.

Interesting to see that the last entity to sign up to this board was, you guessed it, the PYL.

Oh well, I guess NF tentacles being closed due to "financial reasons" could be a taste of things to come.

Still, EVERY SINGLE PAGE of this web forum has been saved, cached, burned to disk and sent as far away as Perth in WA and Christchurch in NZ. These pictures below are taken from the ANFY forum. Confirmation that no matter where these groups are operating; the Sydney suburban fringe, the Southland hills in NZ or the backwoods of West Virginia - these guys just love taking to the bush and playing Soldier of Fortune.



Where the fuck do these guys think they are? The friggin Falls Road in Belfast?


What's this guy trying to do? A straight right, an upper cut, a right hook or some unco combination of all three?


There's something very "Beastie Boys" about this shot isn't there?



____________________________________________________________________________________



Kyle and the boys get some target practice in at their Lake Hauroko Y2K Bunker.



A disclaimer for the INCREDIBLY STUPID, I don't actually believe that the person pumping off his two Glocks IS actually Kyle Chapman. How could it be? The vegetation looks NOTHING like what you'd find on the Southland Hills!

I've aimed up once again but Weezil, with all his years of journalistic experience and multiple doctorates has come out with something better.

A friend of mine (Weez) once said that far-right groups only set up a public presence on the web so as they can attract like-minded individuals (as few and far between as they are). Shine a spotlight on them and these guys scurry away and hide like the cockroaches they are.

Well, first the NFY forum was pulled down due to "financial reasons." Now the WPCA Forum has been pulled due to "mass infiltration by leftist swill."

I think that clearly illustrates the point.

It seems that my piece outlining Kyle Chapman's criminal history and inability to spell above kindergarten level has sent the NZNF into MAJOR damage control.

It's been almost a week since they issued their 24 hour deadline for me to remove the post:


You have 24 hours to remove the post and stop the bravado. Do not underestimate what you're up against just because you're yet to get your hands dirty. This is your last warning.


....and sweet fuck all has happened in the meantime.

Naturally, Kyle is concerned that my defamation action launched against people in Australia could have ramifications for him and his organisation. He's still talking tough (and thick) as ever, seemingly unable to comprehend that people in Sydney do things very differently to people in Christchurch. Don't get me wrong, ChCh is a gorgeous little town but a 'town' it is. Chipmunk is rumbling with the big boys from the REAL big smoke now and as expected, his insular little brain can't actually comprehend that Multicultural Sydney encompasses a power and sway that dwarfs that of his little village hamlet.

What with the impending launch of the Union/activist/multicultural juggernaut that is Fight Dem Back on both sides of the Tasman and with an NF membership that is shrinking daily, Kyle has no choice but keep on bluffing his way through and increase his PR offensive.

Kyle isn't normally that active on Stormfront (as NZTrooper), but bugger me if he hasn't spammed the fuck out of that site in the last two days. Click here to see threads.


Topic: NZNF TV Adds
NZTrooper

Topic: Nazi Extremists ( Multi-page thread 1 2 3 )
NZTrooper

National Front Australia ( Multi-page thread 1 2 3 ... Last Page )
NZTrooper

Poll: Cival War in New Zealand ( Multi-page thread 1 2 )
NZTrooper


This is all just "business as usual" bluff and buster. I mean, when an organisation in trouble starts talking up the idea of making television commercials as a means of proclaiming how BIG they still are, you KNOW that the group in question is really up shit creek in a barbed-wire canoe.

I have now heard from three different sources that the NZNF's Secretary, Kerry Bolton (the Satanist guy hated by the rank and file who handles all their admin and literary stuff) HAS in fact walked. We all know what a great speller and wordsmith Kyle is - how does he fill the void left by Bolton's absence? How does he turn the computer on? How does he "pres big buton on kompooter machinne and make prety colors and lites come up so write fings"?

Simple, he flies in JIM SALEAM from Australia for a bit of networking and hobknobbing. This from the NZNF forum.


NFKyle
Lieutenant
Joined: 08 Feb 2005
Posts: 188
Location: Christchurch
Posted: Sat Feb 19, 2005 10:39 am Post subject:

--------------------------------------------------------------------------------

Jim Salem from the Australian first party is comming to NZ to meet with us next week.

I will be hosting a social at my house on Friday nite and we will have a BBQ on saterday afternoon.

Anyone who would like to come and meet Jim are welcome.



I mean shit, if Kyle is trying to recruit and expand his organisation into Australia, the last bloody thing he should be doing is be seen rubbing shoulders with the most universally despised man on the Australian nationalist scene.

Still, desperate times for call for desperate measures.

Having outed that, I still wouldn't be surprised if it was simply more "business as usual" smoke and mirrors. NZ customs and immigration have been notified either way. Not by me either, the NZNF is SO infiltrated by anarchists that there are literally NO surprises coming from their end.

He has kept up firing various emails to me, accusing me of this and that in a vain attempt to shut me up and get him off his back.


From : Kyle Chapman
Sent : Sunday, 20 February 2005 8:30:02 AM
To : yougotoofarmathew@hotmail.com
Subject :Will we get some media out of it?
X-Originating-IP: [203.96.149.64]
Sun, 20 Feb 2005 08:30:02 GMT

Have we got any media from this yet?

We needed some Aussi media to get things rolling!!

Wont stop the truth about you comming out, when I get interviewed all of Aussi will know your a sex offender.



Bwahahahahahahahaha.

Just on the issue of media. Rest assured that whatever appears in the media regarding these people will be crafted in such a way to provide the least amount of oxygen possible.

To this email, I simply replied that he should contact my legal reps. Kyle in turn responded with:


From : Kyle Chapman
Sent : Sunday, 20 February 2005 9:54:10 AM
To : yougotoofarmathew@hotmail.com
Subject : RE: Will we get some media out of it?
X-Originating-IP: [203.96.149.64]

Ill post that in our website ah, about your legal advisers. Shows how guilty you are.



But wait folks, he's just getting warmed up!


Man you have toomuch time on your hands, what you do with your hands is what this is all about isnt it.

Your prety big in your world ah. Yes you have scared some young boys, that is part of your world isnt it.

I have been waiting to be taken to court for so long. I would love for it to be against a pervert.

Sex offenders always deny deny deny!

I never new who you were untill you bad mouthed us online and someone showed me. So to me it all began with you.

Who are the people in in Sydney who are NF, we have no membership records of any members there.

We are NOT WPCA.

If they are brats, what is a man who picks on them?

Any thing you deal with them has nothing to do with us.

What you have done has already set the stage.

We will have a full page on our website commited to you soon.

Im ready for court, we have the pages on your site copied and ready to show lawyers etc.

There is enough evidence on your site to shut down anything you do legaly.

Our Computer geeks are working on it all.

Cowardly sexual perverts like you make me sick!!!



Yawn. I can see the porky parker now. Sitting in his 'office' and planning and scheming how he will lead the NF revival via the publicity generated by a possible lawsuit against him. He'll look a hero by simply repeating these fabrications over and over about this "Aussi". The more he does it, the more he drags himself into the legal firing line.

Incidentally, an associate of the two brats in question (Ironbrotherhood and Goobs) contacted me on MSN in attempt to "talk things through." DrMarten1460 is a Brisbane girl (yes, the FIRST woman I've come across in the Aussie neo-Nazi movement). She was mainly active on the now defunct WPCA and NFY forums where her avatar featured a blonde frauline with a swastika backdrop. Her signature said something about "nigger loving whores" being traitors to the white race. Here's how the convo went.


DM1460+ says:
Yeah, sorry, that was all... picking on two youths is really very harsh though, its below the belt

Darptics says:
After that defamatory JPG IronBro posted, it's too late to let them be. The legal wheels are already in motion.

DM1460+ says:
Youth are young (obviously), neive... you are really going to fuck up their lives for a silly mistake

Darptics says:
Understand that acting upon these guys NOW will possibly prevent a race-hate crimes being committed in the future.

DM1460+ says:
Lol, we arent like that

Darptics says:
Read his (Stormfront/WPCA) posts.

DM1460+ says:
Yes, and I speak to him on msn



So, here we have it. First confirmation from the neo-Nazi side of things that they made "A SILLY MISTAKE" by trying to defame me. DM1460 talks to them on MSN, she knows them better than we do and she knows the boys made a "silly mistake" because they spilled the beans and admitted to her that they well and truly fucked up!

That small excerpt of the convo is all my legal advisors will permit me to publish. The rest is to be used for maximum effect where it counts most, in court.

I wonder how long it will be before the ChCh bruvvas follow through on their threats and make an even more bombastic "silly mistake"?

I've already gone on the record and refuted their bluff/slander, so I'll not bother myself anymore by playing the strawman. If anything, I'm starting to think that his obsession with this issue is reminiscent of the kinda shit that went on in the Hitler Youth.

The adult 'scoutmasters' of the Hitler Youth made a big public hoo-haa about paedophilia whilst all sorts of sickening shit was widespread within the organisation itself.

I mean the amount of effort that Kyle has put into setting up a youth branch both in NZ and Australia really has some people wondering. Setting up special youth forums, a youth only MSN network, recruiting youths from other countries!?!?. Did you know that whenever a young bloke joins the NZNF Forum, Kyle either adds himself to their MSN (if they list a hotmail account) or emails them asking them to add him - for a bit of a chat - ya know.

Weez puts it better:


Kyle Chapman of NZNF has been quite busy trying to smear our nazi-hunting mate Darp by publicly accusing our him of paedophilic tendencies. I have to suggest that the Krappie & Chappie approach to these two teenage boys has got all of the hallmarks of the grooming behaviour exhibited by actual paedophiles. Paedos often prey on children who are bullied and abused by giving them approval and sympathy (which appear to be Iron Darren & Goober's main reasons for being interested in white supremacist groups), but with an ulterior motive of inculcating the youth into the predator's sick mindset or activity; this is very precisely what Krappie & Chappie are doing with their "NF Youth" efforts."



It's sickening enough that groups like this actively recruit angry, disaffected, bullied, lonely and emotionally disturbed kids into their organisations. They don't do this out of any feelings of empathy for the kid, nor to help them solve their problems. They do it because they know vulnerable kids will be susceptible to their message of hate and bigotry. It's lowest common denominator recruitment basically.

If anyone else can put forward a different hypothesis on why Kyle Chapman spends so much of his time around young boys, I'd like to hear it.

_____________________________________________________________________________________

The White Pride Coalition of Australia have put their forum back online. They've cleaned out all the potentially libellous stuff and made "Darp" a banned topic:


WhitePrideCo
Administrator

Join Date: Dec 2004
Location: Sydney, Australia
Posts: 82

Forbidden Topics
Greetings All Forum Members,

In the last WPCA Forum, we were over-run with threads about irrelevant subjects, individuals and groups - I do not want to see this happen again!

The Forbidden Topics are as follows:

1. StormFront - We will have the same policy they have in regards to discussion about the WPCA.
2. Baron von Hund.
3. Steelcap Boot.
4. Full of Pride (FOP).
5. Any derogatory comments in regards to Jack van Tongeren and the ANM/ANWU.
6. David Palmer


7. Darp


8. Any open discussion in main Forum etc regarding tactics, strategies and actual activities. These matters should only be discussed via PM, E-mail, Face to Face or Instant Messaging with a known contact.

Please check this thread regularly as it will be updated.

WPCA Admin.


Kyle Chapman of the New Zealand National Front is still well and truly in damage control. I feel sorry for the guy in a way, being reduced to a mixture of poker-bluffing and outright lying in order to keep things afloat.

Kyle prides himself on being working class, nothing wrong with that - I'm in the same boat. He repeatedly likes to make the point that his working class origins denote that he is incapable of turning the other cheek. That's dumb talk for "I don't really know what the fuck is going on so I'll just keep walking headlong into this brick wall and claim that I'm being staunch."

The truth is that the guy is scared, scared that the calibre of the Australian opposition to his organisation is light-years ahead of anything that the Kiwi left can muster. He is scared of those strange things called Unions with their big jackets and Maori dock workers. Scared that he doesn't really know that much about how the world operates outside charmingly provincial Christchurch and scared that he has been suckered into a game that could leave him with a massive amount of egg on his face. Whether he plays it to the last hand, or "turns the other cheek" and folds. Things have progressed to a point where he simply cannot win.

And by jove it's giving me the perpetual giggles to watch him dig the hole deeper as he enters his CAGED BADGER mode!

He posted this on the NZNF "secret" forum on Sunday:


NFKyle
Captain

Joined: 08 Feb 2005
Posts: 206
Location: Christchurch

PostPosted: Sun Feb 20, 2005 9:41 pm Post subject: New Enemy Reply with quote

yougotoofarmathew@hotmail.com

This guy has started a couple of websites against our movement.

Email him and tell him how you feel about him.

His nick name is Darp, he spends a lot of time finding information and then adds some porkies into it to make it better then posts it on the site.

http://www.darpism.com/

http://www.fightdemback.com/



Wow, he actually said "enemy" and not "enimy" for once! And bombard me these fuckers did! Kyle's little incitement to his troopers to harass and threaten me worked a treat if their aim was to bring themselves to the attention of their ISP's. Were anyone's terms of service breached? Hmmmm…there's one guy who oversteps the mark but I'm not 100% up to speed on Kiwi ISP regulations. Checking it out now.

Kyle has kept up with the 'pedo' (sic) allegations via private email and has now posted a few comments on Stormfront and on the NZNF forum:


NFKyle
Captain

Joined: 08 Feb 2005
Posts: 206
Location: Christchurch


Its all part of this guy DARP. He has been busted being a pervert and he is covering his tracks like all sex offenders do.

He has threatened me with legal action aswell. Im still waiting for the court papers.

I have lots of stuff on him and ready for the cort process.

If the Aussi's threatened him, that was a mistake, I can understand it though as they were angrey at this freak following them around with cameras taking pictures of teen age boys and trying to stand over them.

Darp is a Sick man. Like all sex offenders he is now covering his tracks and he is a coward who will now deny everthing and do anything he can to keep people quite.

We will do a full page on him in our resources. Unless I get the court papers in the mail soon.

Im waiting, waiting. He is full of crap, I havnt even seen any reporters yet.



I'd be interested to know precisely where I have been "BUSTED" for anything of this ilk. That's a fairly blatant public insinuation that I am responsible for acts that I did not commit. And buddy, claiming to be ready for the "cort" process shows that you aint ready for the COURT process.

How thick is this guy? He spelt 'Saturday' as 'Saterday' recently.

This is pretty tame compared to what the guy posts on Stormfront:


The Youths that the WPCA are protecting were NF Suporters also and were attempting to set up a NF cell in Sydney. DARP has been working with Communists in NZ to try and stop the growth of the NF into Australia. He had even followed the boys when they were doing activities and took photos of them and threatened them. (a cowardly act, again showing his low character and giving evidence of his pervers nature).

He posted PYL youths addresses and family datails online. He has no honour and has shown no sign of human decency. But thats prolly cus he is a commie, not a human.
He has told these young men that he is going to go to their schools and anything else he can to do to damage in their lives.


Pfffft. No one's school has been approached; no one was threatened with their school being approached and praytell Kyle, WHERE EXACTLY HAVE I POSTED ANYONE'S ADDRESSES AND DETAILS ONLINE? The only information that has been published on the PYL is that which is already in the public domain, ie, shit they have posted themselves – full names, PO Box addresses and mobile numbers. It's also interesting to note how he didn't have the strength of conviction to publish my full name on Stormfront. I mean, if he's so so so so, sure of himself here? Why not open up all cylinders and let rip?

Anyway, let me explain to you all the story of how Kyle, Ironbrotherhood, Goobs and the boys came up with this 'pedo' strategy. It's riveting reading, I assure you.

After uncovering the mystery behind a supposed group who were threatening me, the "Ironbrotherhood" (ie, the group turned out to be a few guys at most) and informing this group to pull their head in, I received the following email from Ironbrotherhood:


Wow i never thought of those possibilities,maybe Darp is infact a Pedo!
Now thats a can of worms i would love to unleash if darp wants to "play ball" ;)
talk soon buddy



We all know where that ended up. The JPG, the WPCA forum being yanked down and furious back-channel diplomacy being conducted on behalf of the guilty persons in order to prevent me "fucking up their lives over a silly mistake". That's what one of their emissaries said anyway.

But let's look back to the beginning of this scenario. To a sunny day in mid January when someone called Ironbrotherhood added himself to my MSN and informed me that he was part of a bigger skin gang who were going to be active in my area. They resented my trouncing of the PYL and were hell-bent on putting this Multicultural Champion to the sword. Here is the picture he was using on MSN, he assured me that this was a shot of him and his mates doing their thang. He also claimed that he knew my address.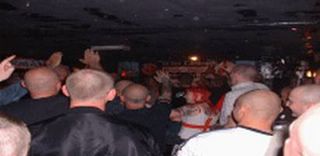 The "Heil Hitlering" Ironbrotherhood.



Now, dunno about you but if someone was intonating that THESE guys were coming around to sort me out, I'd be a wantin' to check em out. Especially considering that the amount of threats I was receiving as a result of my opposition to race-hate groups was escalating rapidly. As with the dozen or so already on file with Eastwood Police, I reported this one as well.

I began doing a bit of investigating on the 'Ironbrotherhood' and came across this on the WPCA forum:


ironbrotherhood
Sydney Nationalist

Join Date: Dec 2004
Location: Western sydney
Posts: 35

Your awakening

I personally think that most WN or NS have had something happen to them that has made them click.Something thats set them off.Take the time to write up a story if you want.Here`s a few of mine:

I went over the edge when i was a member of the "Bulldog army" which is 98% lebo.I grew to hate the fact that these "mates" hate me and my history so much,it was shocking.I also saw first hand for over a yr how much these people have to offer this country.

When i was spat on after school by a leb then being called a "white cunt"made me so angry because this person is in this country,we got him out of his shithole,and he doesnt give a flying fuck.

When i saw a lone white"surfie"at my school get chased across train tracks by a group of over 10 lebs one with a knife,the lone aussie had to hide in a backyard for 2 hours before he came out.The lebs wanted to get him because he had a 1 on 1 fight with a leb who tryed to rob him of his phone(the aussie won).

When i saw the same gang of lebs bash another lone aussie in a fish and chip shop.

When i watched 5 paki`s laughing through the 1 minute silence for our diggers(the next yr they said we would no long have a minute silence).

When i saw a asian let loose a huge spit infront of a old man in bankstown.

All these things made me what i am today.They are the driving force, they represent the truth.The true face of multiculturalism isnt song,dance and food.


Hmmmm ...this bloke has obviously had a bad run of things down Bankstown way and is seeking some easy answers.

After we uncovered the fact that Ironbrotherhood was in fact one person and that he was a member of the NZNF-linked Australian National Front Youth, a group of skins being mentored and groomed by Kyle Chapman as his first Australian sub-branch, we set about monitering the online activities of the NFY.

We found out that they were planning a 'flyer day' for the 29th of January in the Sydney CBD. Well, if these guys were threatening me, I've got the right to get some people along to see who they REALLY are when they step out from behind the keyboard.

Cam Sexenheimer and I concocted the alias, 'Ron Owens' and set about finding where the ANFY were planning on meeting. Remember that Ironbro had already joined up with the PYL when we smashed them at the Hyde Park counter demo, turns out he was quite shaken.


"Iron Brotherhood"
To: owens_rdo@yahoo.com
Subject:RE: flyer day
Date: Mon, 24 Jan 2005 22:05:22 +1100

Yup that me mate,
Due to the fact that we dont want a counter demo being organised by the
reds against the youth group on the first flyer event i wont tell you
anything.The flyer we will be reveiled on the day.If your
interested in coming,email me your mobile number and i will call you to
tell the details.
Hope to hear that your the real deal!
14 words


So Cam sent him a soon-to-die pre-paid mobile number. The bait was well and truly taken. IB replied,


I will call tommorrow,Dont be put off about the lack of info etc im
willing to give,the other day a event info was leakd to commies and we got
ambushed by 60 of the pricks in the middle of hyde park!
That wont happen again:d
14 words



Oh, won't it now?

He rang Cam and after a minor interrogation to see that he was the 'real deal', told us that the meeting point was Town Hall Steps at 11:30am.

The plan? There was a skin crew out there who had threatened to bring violence against me and mine, I wanted to know who the fuck they were or atleast who they THOUGHT they were.

Without being too obvious about it, the best you can really do is take some clandestine photos of em so you know who to look out for. It's a standard left V Fascist tactic. In the UK it goes waaaay over the top with both groups running websites which display photographs and personal info about 'the enemy'. There was no intention of this on my behalf, I just wanted to know how many of them there were and what they looked like.

Now, with my picture ALL over this blog and all over Fascist resource sites as well, it probably wasn't the smartest thing for me to partake in this operation. I was convinced by an old-time waterfront anti-fascist campaigner to leave this job to the 'un-usual suspects'.

Weezil wasn't gonna miss out on this one despite my protestations that he leave it to the old-timers. Hang on, he's not exactly a spring chicken himself but hey - Weez and his monster zoom couldn't be persuaded to sit it out. He headed on in.

You're all probably thinking that this anti-Nazi lark is a bit of a boys club, well, the next two people to figure in the overall dramatis personae blow that theory out of the water. My old uni mate Natalie Portman and her younger sister Blossom volunteered their services for the operation. They claimed that they would pretend to be tourists and sidle up close to the NF gang and take some good photos. Of course, both these names are assumed for their own safety and resemblance to Nat Portman and Mayim Bialik.

So, all was in place. Nat rang me at 11:35.


Nat: There's no one here who looks even remotely like a white supremacist.

Darp: Well, give it another twenty min at least, all the other guys are in position.

Nat: Ok.

Darp: Are there any Anglo guys on the steps aged roughly between 18 and 25?

Nat: Yep, a guy in a blue shirt reading the paper.

Darp: Cool, I'll bet these guys are hiding around the corner wary of another ambush. THEY DID advertise this on their forum, so they have to expect it. I'll call Cam and get him to ring Ironbro and tell him that "Ron is waiting on the steps in a blue shirt."

Nat: Cool.


Cam put the call through to Ironbro and a minute later, a scrawny, lanky kid in Billabong gear ran up the steps and said something to the guy in the blue shirt. This was Ironbrotherhood. Same white cap as he wore in the PYL video - pity that's all we saw in the video or else there would be no need for this shit.

Blossom started clicking away. Ironbro realised what was going on and scarpered. Blossom gave chase down Druitt Street with Weezil catching the whole spectacle from his zoom lens. She bolted after Ironbro and stalked him from a distance of three metres, all the time clicking away. She got in front of him and got a few shots, like VERY BLATANTLY. Ironbro just covered his face with his hat and kept on running.

And that was it. THAT was the 'GANG' that was after me. Summary exploration of WPCA posts showed that Ironbrotherhood was the only guy who turned up for this flyer day. Ho hum.

Later that afternoon, I looked over the pictures as the events of the day were replayed to me. All that effort for one fucking stupid kid. Sure, I was happy that no skin gang were gonna come and kick my door in but still. I then got to thinking about how scared shitless Ironbrotherhood would be after the day's events. I thought it best to give him a quick call to assure him that no-one is going to use those photos Blossom took, that no-one is coming after him, that everything is cool provided he pulls his head in and stops threatening people over the internet. For fuck's sake, we're bleeding heart lefties, not ruthless right-wing thugs!

I followed this up with an email informing him that I knew a number of social workers in the Bankstown area who would be happy to help him out with any issues he may have. I mean, the kid is obviously a bit messed up and angry. Unfortunately, some White Pride recruiters got to him early on and fed his head with racial bullshit. I held out hope that he could be rehabilitated.

But no, my bleeding heart leftie nature was taken advantage of again and Ironbrotherhood sent that email in which the idea dawned on him that he would "open a can of worms" by saying that I'm a "pedo" if those pictures were to be used against him.

I mean, if I was a scrawny White Supremacist kid, Multicultural Bankstown is the last place I'd want to be outed.

He was scared, understandably so considering the amount of fear that his elder WN advisors presumably pumped into his head when he informed them of what went down on the 'flyer day'. Still not 100% sure on this, maybe the little fucker is evil and vindictive enough to come up with the 'pedo' blackmail of his own accord?

I didn't respond to his threat as it was never my intention to do anything with those photos. In light of recent events, that looks like changing. You wann play "balls of brass bluff the Darpster"? Trust me, I am one guy you don't wanna meet on a poker table.

What do you guys reckon, should I run them?

Enter Kyle Chapman.

The big fella took MASSIVE exception to my drubbing of him and was naturally curious as to who this Darp character was. Ironbro got together with his Kiwi mentor and discussed recent events. I highly doubt that IB actually told Kyle the full truth about what went down on the flyer day because as you can see from Kyle's forum entry above, HE BLAMES ME for chasing the kid and taking photos of him.

Seeking to big note himself with the big guys, Ironbro more than likely embellished the story beyond belief. A 17yo girl chasing him with a digital camera turned into a seven foot Darp chasing him with pick-axe and a mob of Dockers. IB also informed his mentors that I physically threatened him and "stood over" him. Pffffft - I've outlined what really went down and can document everything to prove it. Be interesting to see what they can come up with other than hearsay.

Herein comes their attempted 'pedo' slander. They are pathetically trying to work the line that if a 28 year old guy (me) takes photos of a 16 year old kid, chases him, threatens him, calls him later and acts nice and tries to refer him to a counsellor, that they can slap a tentative label of 'pedo' on them.

Well, more fool them cos I never took any photos and never chased or threatened anyone.

Most sections of the Australian WN movement are distancing themselves from Ironbrotherhood and the whole incident in general. They've admitted that the defamatory allegations were a "silly mistake" and have forbidden any further public discussion on me.

Chapman however, WILL continue to bluff his way deeper into the shit. Well, maybe he isn't bluffing, maybe he has simply been tricked into believing a fairy story fed to him by a scared shitless kid?

Maybe Chapman is simply corroborating on the whole thing in the hope of drumming up some press coverage that will never arrive? Understand this you FAT FUCK, the media come a running when I call them, NOT YOU.

Capiche hombre?

As expected, he most certainly looks like continuing the facade and exposing himself to all sorts of legal headaches. And that's all cool with me, I'm content to let this play itself out.

I am NOT blinking.

____________________________________________________________________________________



Not a skinhead huh? Kile Chipmunk on patrol.



Sorry for the continued anti-Nazi shit but you all gotta understand that I'm not the sort of person who lets people off lightly. Especially those who have seen it in their best interests to lie and defame me in order to save their little fascist organisations from absolute and total destruction.

I have received a great deal more private correspondence begging me to "pull back" from "fucking up the lives" of certain teenage neo-Nazis. There are plenty of admissions that their little plan to make me "back off" from outing certain members of the NF in the press AND blowing open the wider story of

"The New Zealand National Front/Kyle Chapman recruiting vulnerable Australian Youth"

- has well and truly backfired.

It's interesting to note that at the same time as the confessions began flowing thick and fast, Kyle Chapman's daily "your(sic) a sexx ofendar" emails have stopped.

It all begs the question of who actually decided on taking the blackmail/defamation route in order to shut me up. Were these kids cluey enough to think it up for themselves? I think not.

Maybe Kile Chipmunk INITIATED the whole fairy story to begin with? That's not too nice, instructing vulnerable youth on the other side of the Tasman to lie and defame in order to protect HIMSELF and his organisation from being lambasted in the Aussie and Kiwi press for preying on vulnerable youth.

I do have a very interesting paper trail to back up this hypothesis. In IB's initial blackmail email, he says.


I guess you will have to make up new plans to "take us down" lol.Gunna play ball?are you queer?I have been talkn to a youth liason officer,she came under the impression that someone threatning to post pictures of someopne and calling them all the time is preety freaky.


Intentionally using the term 'she' is a bit of a throw-off I feel. When push comes to shove (which it will soon) I wonder if he can put us in contact with this female youth worker. Compare this with something IB said on one of this threatening MSN rants:


Ironbrotherhood says:
lol did you know kyle from the NZ NF also is a commuinity youth aid guy?
Darptics says:
So fucking what ...being seen as a pillar of the community is standard Nazi cover.
Darptics says:
Kyle also vandalised a Maori meeting house and his boys were involved in vandalising a Jewish cemetery ...so ..I don't think he's a very nice guy.
Darptics says:
and did someone say "FAT CUNT"?
Ironbrotherhood says:
lol iv know him for a few yrs,he isnt that fat anymore,hes trying to trim up


Interesting isn't it?

Trying to trim up! HA, good luck with it buddy. Personally, I can't say that I've seen a big difference in your gut-size over the last eighteen months. And Jesus, if IB has known Chipmunk for a few years, he must have been recruited at the age of 12 or 13! This story gets better. It is also interesting to note the level of prominence that Ironbrotherhood gave the NZNF when he posted that JPG on the WPCA forum:


The NZ NF are really going to town with this news.If Darp wants to take on the wpca,i suggest we use this info well.


Are they 'going to town' on it because it was Kyle's idea in the first place? Hmmm..interesting to note that they've shut up shop on this issue since my last post where I well and truly called their pathetic bluff.

I mean, if Kyle did put the kids up to this then there are other issues of criminal liability to look into as well - this won't remain a civil case. If you instruct others to break the law on your behalf, you, my friend are criminally liable and it's doubly worse if you are seen to be using your age, position and influence to encourage minors into doing things that are at best, legally 'iffy'. Just look at the Tom Metzger case in the US to see where all this could end up.

Let's not fuck around here, the dynamite contained in this story is enough to finish off the NZNF once and for all. The majority of Kiwi lefties have been FUCKING FANTASTIC on this case, more legendary than a John Kirwan sideline sprint or a Buck Shelford rampage. Their efforts in Wellington on October 23rd are testament to this as are their subsequent and highly dedicated information gathering operations against the fascists. There are NO surprises coming from the NZNF.

BUT there are a few who really need to take along look hard look at themselves. The NZNF should NEVER have reached the level of prominence that it did. Someone was asleep on watch. There is some grumbling coming some sections of NZ left that it shouldn't bloody well shouldn't take an Aussie Maori to swing his Taiaha from across the Tasman in order to clean their backyard for them. I reckon that is a bit strong seen as I can personally vouch for the amount of effort that most of the NZ left have been putting into this campaign.

When I made my claims about eradicating the PYL within six months, I came through with the goods - they are reduced to a membership of three who post one update a month on their site and DON'T ACTUALLY DO ANYTHING anymore. Everyone knows who they are, everyone knows what they stand for. They cannot make a peep without being swamped by community anger. They're done and done - caput!

Darp won again (as always). Is there a similar fate in-store for Chapman and the "boyz"?

The NZNF have to understand that a descendant of the Nga Manu Waipihangarangi IS NOT going to back away from a fight with a guy who once firebombed a Marae (Maori meeting house).

With the extent of my reach and my

BALLS OF FUCKING STEEL

it doesn't matter which side of the Tasman you're on, I'll fucken have ya!

Simple as that.

______________________________________________________________________________________

Guns.

Guns guns guns guns guns guns.

What do I know about guns? Not a lot.

If you aint been following the trans-Tasman Nazi shitfight, you probably won't take anything away from this post but if you love guns, I think you'll grow as a person from reading what follows.

First off, a BIG KIAORA and shoutout to all of the Punkas crew in NZ. These guys are living proof that the spirit of Jello Biafra, Patti Smith, Joe Strummer and Joey Ramone lives on. Well, the first two aren't dead yet but you catch my drift.

If you love your punk and ska - check it out, it's a top forum. The odd Nazi nutter drops in as well, see here, here and here for some vintage footage of ol' Darpie going toe-to-toe with Jack Van Tongeren's old
"mate" Ben "fire up the ovens" Weerheym.

Yes, what you read there is true. Whilst undercover on a Nazi forum, I convinced Ben that I was a coder who invented my own IP Blocker. Ben got all excited as I explained how the process works (ie, talked techie out my arse). He got so excited in fact that he fired off this email to me.


From : aussie Patriot
Sent : Monday, 7 February 2005 10:55:15 AM
To : yougotoofarmathew@hotmail.com
Subject : shut it Darp

I would watch my step darpy, there are alot more bigger and badder people out there and you are doing a good job of pissing them off.


I replied that someone serving a ten month suspended sentence for racially motivated attacks probably shouldn't be threatening people over the internet as they could get in a lot of trouble. He replied.


From : aussie Patriot
Sent : Tuesday, 8 February 2005 9:55:53 AM
To : yougotoofarmathew@hotmail.com
Subject : oh, also

I use an IP blocker, I wrote the code myself, I work in IT as you will see from various news articles so you see, whatever you have is wrong (much like your rhetoric)

Thanks.

PS
say hi to little Robby for me. (Rob Corr)


HA HA HA HA HA HA HA HA HA HA HA HA HA HA HA

Also see this drubbing that those NZ Ground Training obstacle course kids copped on Punkas.

And you know what, I WAS RIGHT ABOUT THE LEMONS!


Vic
Joined: 14 Mar 2005
Posts: 5

PostPosted: Mon Mar 14, 2005 5:57 pm
Well, its quite simple really, we speeze lemons in the recruit eyes at the beginning, and around the end of the course their is gravel which they must crawl over. I would think anyone is afraid of our courses.


The thing is, I was just taking the piss - these guys are serious.

BWAHAHAHAHHAHAHAHAHAHAHAHAHAHAHA

Ok, sorry, I'm getting off topic. Guns, guns, guns, guns.

My apologies to the Punkas crew because what I'm publishing here is fucking OLD NEWS insofar as those guys and gals are concerned. I spoke of dead Ramones earlier, well I reckon the late gun-toting Johnny Ramone would dig these pics.



"Look, I really need to take shit BAAAD, so if you don't hurry up....."


Hey-Hey-HEY HEY HEY, MACHO MACHO MAN, I WANT TO BE A MACHO MAN!



Who is this psychopath? Why it's Kyle Chapman, head of the NZNF. A mature, responsible and perfectly sane individual who is hell-bent on kicking off a fourth Reich in the South Pacific. Aint these just the sort of "blast from the past" photos you DON'T need when you're trying to remodel yourself away from a firebombing and criminal past towards something more "legal", reasoned and vote-catching.

Kyle of course, ISN'T a Nazi as far as he is concerned; he just likes wearing an SS armband. Not sure about why he is wearing a Pink Floyd's (The Wall) t-shirt considering Roger Waters' well known left-wing pacifist leanings and staunch opposition to fascism. Jesus, the whole ethos of The Wall was a vicious lampooning of the fascist mind-set.

Lacking the mental capabilities to detect irony and situationism, Kyle probably heard the following lyrics and thought, "RIGHT ON!"


Are there any queers in the theatre tonight?
Get them up against the wall!
There's one in the spotlight, he don't look right to me,
Get him up against the wall!
That one looks Jewish!
And that one's a coon!
Who let all of this riff-raff into the room?
There's one smoking a joint,
And another with spots!
If I had my way,
I'd have all of you shot!

-In the flesh II, The Wall.


I don't like it when people misinterpret my favourite albums.

Actually, Kyle has probably never heard of Pink Floyd and if he did, he would dismiss them outright as being "poofs" because of their name. As Mutante from Punkas says, it was probably a simple case of Kyle going all ga-ga over the imagery of the marching hammers and completely misunderstanding the whole ethos of what The Wall is about.

Come now, don't laugh. We're all not as "confused" as Kyle is. If you were his mental age you'd also be taken in by those pretty colours and tough looking marching hammers.

OK, let's get down to the specs; it's time to call in the gun experts.



Now, pay attention class!



On the left we have the one and only Weezil. Dual American and Australian citizen and like Michael Moore, a lifetime member of the NRA. The Weez man knows guns.

On the right we have Chief Bastard. An Australian Army man with a reputation of being able to name ANY piece of weaponry on sight. Hell, you can blind-fold him and he will still give you a make, model number and an approximation as to the last time it was fired.

As an aside, I'd also like to make a public apology for calling CB a "gun nut" about eighteen months back. I now realise that due to the specific nature of his work in the Australian Defence Force, this guy makes it his business to know everything there is to know about those things that go bang-bang.

So, what did our two experts come up with. Weezil completely blew me away (not literally) by rattling of all kinds of possibilities regarding the origin of this weapon. Initially, he thought it might be a cheap SKS Chinese low-rent AK47 equivalent but after further study and a number of emails back to the American Mid-west, he arrived at this conclusion.


Hey Mat,

It's not an SKS. It's an FN 'FAL' or a licenced copy. Could be 7.62mm or .223cal
depending on the country of mfr. Obsolete. Common as mil surplus. Many are
Brazilian made. Were used by ADF and possibly NZDF as well.

Would be veddy interesting to find out if military assault rifles can be legally
imported to NZ. Somehow, I doubt it. Research, research.

Comparison points:

1: Square ended receiver
2. unique trigger guard shape
3. folding carry handle - unique to FAL
4. ammo clip
5. safety
6. forward sight with unique loops
7. stap loop
8. no flash suppressor

OK, I'll call it confirmed that the firearm is an FN FAL or a copy. Chances are
it is an older 7.62mm version instead of modern .223cal.

So ya know, 7.62mm is a standard cartridge used by many assault rifles including
AK47. This is a pretty fucking heavy article of hardware Kyle's poseuring with. Will shoot straight through a schoolbus. End to end.

The light switch in the weapon photo is a common AUS/NZ type. Not used anywhere
else that I can recall. It's certainly not US type. I'd like to hear him claim
that the img IS him but "he was in the US at the time where such are legal.
LEFTIE PHOTOSHOP HACK JOB!!!"

cya

Weez.


Emphasis added.

Did you guys follow any of that? Let's hear what Chief Bastard had to say:


Mat,

The weapon depicted in the picture is more than likely an L1A1 SLR, the Australian version of the Belgian FN-FAL. Issued to troops in Commonwealth countries, the Australian version was also used by NZ forces for the same period of time as us. Essentially 50's to early 90's, where it was replaced by the smaller calibre Steyr, which the NZDF also adopted with minor changes (scope and weapon colour). The SLR is in 7.62 x 51 mm NATA calibre, a very large round capable of knocking over most humans regardless of personal protection. If loaded with 7.62mm armour piercing rounds, the weapon would easily penetrate engine blocks. A nasty piece of kit in the wrong hands.

Fitted with a scope, 20 round magazine, the SLR can be used as an amateur's sniper rifle out to 800 metres easily. Not available for sale in Australia unless by special permit, I am unsure of the availability in NZ.

If the holder of this weapon becomes unhinged, the average cop is going to be pressed to stop carnage occurring. Hope this helps. To clarify, it's definitely NOT a Chinese or Russian weapon.

C.B.


Emphasis added.

Ok, scary stuff. I guess I better put a few Aussie minds at rest and state that these pics of Chapman are from his Invercargill days, roughly 7-10 years and 30KG's ago. The news gets better in that he isn't allowed to own or play with firearms anymore. Why? Well, around this time he discharged a weapon into the wall and the bullet ricoched off and nailed his brother in the leg, something which still causes him to walk with a permanent limp. Whether or not THIS is the weapon which did the damage, I dunno - I haven't reviewed the court documents yet. If it was, I'm surprised that is brother still has a pulse, let alone his leg!

I don't think the key issue here is "this big baddie used to fuck around with high grade weapons" - well it is kinda - WHAT THE FUCK WOULD YOU DO WITH A WEAPON OF THAT CALIBRE IN INVERCARGILL? Stave off an Antarctic Penguin invasion? My issue is more along the lines of how fucking irresponsible this guy was to randomly take a pot-shot at a wall. If it was an accident, well - two words buddy "safety and catch". What the fuck would you be doing walking around INDOORS with a loaded weapon anyway?

This is a man who expects to be taken seriously people.

The Kiwi anti-Fascists broke these pictures last year. Chipmunk's response? A very flippant - "Oh those pictures were ages ago." Funny how these blokes think, I mean, I once had Goobs crapping on about how his "I wanna kill a Jew" statements were invalid because he said them OVER A YEAR AGO!

I guess these pics are worth publishing again in light of the NZ general election later this year and the NF boys trying to front up as many (cough cough) independent candidates as they can. I'm not implying that they're an electoral threat, but having shit like this floating around should liven up an otherwise dull campaign.

Speaking of livening things up, early this morning NZ time, those dashingly debonair hackers of Blackmask have once again brought down the NZNF web forum. They MAY have followed this up with a another hit this evening on the main NZNF site. Still waiting on confirmation.

If you think this may be an unfair attack on free speech, I suggest you read the following comment from Johnothan on Indymedia Aotearoa.


The very basis of fascism is the denial of freedom of speech, so why do fascists whine about it when they feel their freedom of speech has been encroached upon? If the NF and their supporters say they are for freedom of speech, why is it that NZpolitics.com has consistently banned/kicked off people who have argued against fascism on their message board? The whole 'freedom of speech' issue is used only when convenient.

Perhaps NF Hamilton Rep Troy Cullinane was expressing free speech when he and his mates destroyed a Maori carving/statue in Hamilton last year? Perhaps those NF guys arrested in Wainuiomata a few years ago for possession of $77,000 worth of stolen explosives (Sunday Star-Times 27/7/03) were going to use them to promote free speech? Was NF Wellington Rep Nick Miller arrested for promoting free speech or for rounding up a group of 10 of his mates who then used baseball bats to beat several Somali guys (Dominion Post 30/6/04). He appears in court in Wellington on April 29 2005 for trial after his lawyers admitted that police did indeed have a case against Miller. Perhaps Nick himself was in the van that ran down two Maori men in Otaki (Dominion Post 30/6/04. The van was full of skinheads, there had been an NF demo in Palmerston North the day before, and Nick Miller gave a very detailed description of the incident on NZpolitics.com. Perhaps the van driver was displaying freedom of speech via his driving style?

Besides, the NF had a website detailing all this removed late last year after complaining to the free service provider. I downloaded the information off it; basically the website merely listed their convictions and had newspaper clippings about them. So if they have actively had a website critical of the NF removed, why should they complain when their website gets hacked? Why do they have two sets of rules?


I also promised Weez I would show off some of his and Cam Sexenheimer's handiwork.

Anyone for an Oreo?

______________________________________________________________________________________

Apparently I had something to do with this article.


He (Kyle Chapman) said he had given permission to a group of Sydney schoolboys, who recently set up the Australian National Front Youth, to distribute "starter packs" of pamphlets and magazines in school.

The group, which recruited through a website and public pamphleting, ordered T-shirts from Chapman and used the front's insignia and literature.

One of the leaders, Darren ######, claimed on the group's website last month that "in my school racial issues are going nuts, people are walking round with Hitler Youth flags on their folders and are receiving starter packs of stickers and flyers and mags to be interested".

Darren told the Sunday Star-Times the youths involved had since severed their ties to the National Front after being harassed by left-wing activists. "The group is gone. It was blown out of the water by some lefties," he said.


Smirk.

Guess where Darren AKA Ironbrotherhood/Proudskinhead88 has found a new home?


One of our larger crowds gathered on Saturday 19/03/05 outside Blacktown Station with other patriotic groups for a successful leaflet distribution and friendly engagement with locals on a range of issues. The amount of material sold from our stall shows a keen interest for nationalism among Sydney youth. It was a fantastic day well organised by

Darren

and the

PYL Sydney team

.


Of course, that's no stuff up on their part. It's a "white pride lives on" kind of statement. It's all cool - with their newly acquired WPCA/NF refugees, the direct links between the PYL and neo-Nazism get firmer by the minute. Especially when one of their other new recruits, Goobs - is famous for statements like this.


Author Topic: tone it down (Read 68 times)


WhiteGoobs


Administrator

member is offline

Young Patriot
Gender: Male
Posts: 97

« Thread started on: 12/15/2004 at 06:00:44 »

For the sake of image of the National Front and WNs we are all going to have to tone the nazism. Whilst i understand that hitler was a great man, it gives the left more ammo to use against us.

Australian National Front Youth

Hail Victory


Anyway - enjoy the TV ONE thingie? I'm quite happy with the outcome now that law enforcement agencies on both sides of the Tasman have been alerted to keep an eye on these groups. There is minimal chance of Jimbo getting into NZ again and and even slimmer chance of any NZNF reps getting into Australia for Saleam's "big" August conference.

I probably should go 'hands off' on this one don't you reckon? I mean - if the NZNF wanna ally themselves with Australia's most divisive far-far right personality, then why not just let them go ahead with it? It will mean that 80% of Australian Stormfronters/WPCA'ers won't wanna have a bar of Chapman and that sounds perfectly fine to me.

__________________________________________________________________________________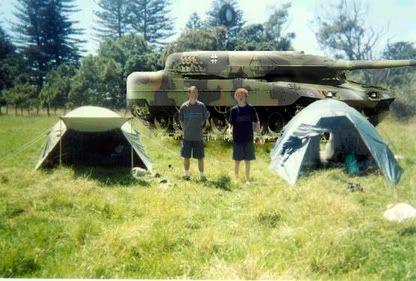 Remember these guys? The "Lemon and gravel backyard obstacle course kids."

They are, or WERE, The New Zealand Ground Training Club? If you don't remember, see my March 9 entry. Well, I can't link to their site anymore because the whole thing has come a tumbling down.

You will remember that this group were outed on Punkas and Darpism as having connections to the New Zealand National Front. Well, here is the end result from those investigations and YES, the lemon in the eyes obstacle course run is mentioned.

Some of the Punkas crew are already labelling this event as Lemongate.

Do I sense another t-shirt in the making?

Anyway, this from the award winning Sunday Star-Times.


Cadets in the gun over National Front link.

03 April 2005
By TIM HUME

A private "warfare training" group of teenage military cadets has been forced to disband after concern about its links to the National Front.

Two members of Manukau's Air Training Corps, a branch of the New Zealand Cadet Forces, set up the New Zealand Ground Training Club for military and outdoor activities, including rifle shooting, self-defence and drill training.

The group, which had about 10 members, was pressured to close last week after the Cadet Forces discovered the club's leaders had been posting racist comments and recruiting members on a National Front internet site.

"The Cadet Force felt some of the comments made by our group brought the Cadet Force into disrepute," said the group's leader.

"The Cadet Force's name was mentioned and they didn't want to be tied in with us."

New Zealand Cadet Forces is a youth organisation, loosely affiliated to the defence forces through a "charter of support", which provides military-themed training to teenagers. Many cadets go on to careers in the military.

The Ground Training Club's website referred to its members' experience in the Cadet Forces.

The group's leader said his comments on the National Front's website about the need for New Zealanders to defend themselves in a "Kiwi vs immigrant war" were expressions of his personal opinion.

He said the Ground Training Club, which he formed with a fellow cadet and schoolmate, met twice a month and was "just a bunch of people having fun".

He claimed in one internet posting that the club's induction ceremony involved squeezing lemons in members' eyes and making them crawl over gravel.

No club members were active members of the National Front, although they shared some of their views.

"Immigration is the sort of thing that needs to be dealt with," he said.

Cadet Forces commandant Lieutenant Colonel Bob Campbell said an investigation would determine the future of the group's two leaders in the cadets.

"I was concerned they had implicated the New Zealand Cadet Forces when they had no authority to do so," he said.

National Front leader Kyle Chapman said he had checked out the club's website with a view to affiliating with them, but had discounted the notion.

"We look for militaristic groups to align ourselves with," he said.

"But we found out they had immigrant members we wouldn't consider acceptable in our own ranks."


Strange, the NF has a WHITE SOUTH AFRICAN IMMIGRANT in their Auckland branch. Do you suppose they'll be kicking him out now?

_____________________________________________________________________________________

The following post is the sort of thing you can expect to see on Fight Dem Back when it gets up and running. I can't give anyone a definite date on that as our site content is currently in the hands of the lawyers, once everything is cleared, it'll be up.

My Kiwi mates passed this little tidbit into my hands last night.




Don't recognise him? How about these shots?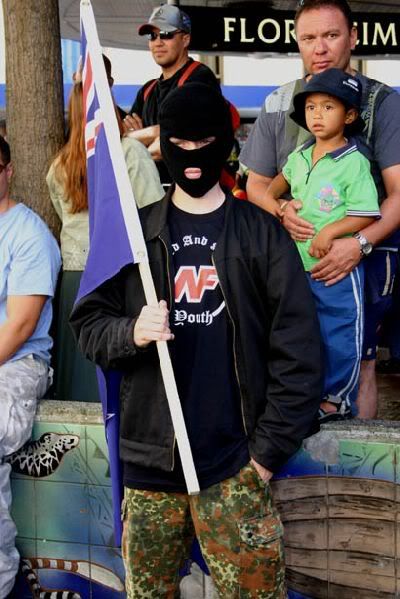 Yes, it's the infamous balaclava guy. He is now starring in the latest public disclosure of the true nature of the New Zealand ("WE'RE NOT NAZIS!") National Front. And you saw it first HERE, on Darpism.

The bloke in the above pics is 19 year-old Jason Molloy of Browns Bay, Auckland.

Wanna know what he stands for? Have a read.


Whites are scared to walk the streets alone. Young girls are raped on a daily basis. A mugging occurs every 10 minutes. Blacks account for 80% of our prison population, and those are the ones that don't get let off by our Jewish court system. 72% of blacks don't finish highschool. In order to overcome years of exposure to the "white guilt" trip, throughout school, and through exposure to the Jew-Tube in our own livingrooms, our white daughters are increasingly taking black boyfriends and husbands, many of whom kick them out onto the streets. Prostitution is legal, and black communities are seemingly above the law.


By "blacks" I asume he means Polynesians. What a charming little fellow and I would never have picked him as an urban combat specialist either.


I imagine it now, we run to the car, a mob of 500 red scum bearing down on us... we open up the rear boot... and 10 pitbulls jump out.

That would be the coolest thing ever.


THE COOLEST! Yes well considering the amount of money that pit-bull puppies cost and considering the amount of space in the average car boot, I don't think this strategy will ever see the light of day. Fact: the dogs will rip each-others heads off whilst confined in such a tight space anyways and will start chomping into the first thing they see when the boot opens, which will be Nazis.

Jason Molloy, aside from living in a fantasy world, is also the National Front webmaster and chief graphic design guy. He enjoys playing Counterstrike ad-nauseum at Iplay his favourite Queen Street net cafe, he posts on Punkas as I_SMASH_FAGGOTS and has threatened to shoot more people in the last month than both of the Columbine High kids put together. Which is ironic (and disturbing) considering how he kinda looks like a melange of Eric Harris and Dylan Klebold. He most certainly shares plenty of psychological traits and a love of high powered firearms with those two.

He loves guns so much he loves to cut and paste pictures off the web of various weaponry and then claim that he owns them. Apparently he needs them for the race war.


Now is the time to start preparing for a race war. Start buying guns & ammo, the sh!t is about to hit the fan.


Precisely where and when will the afforementioned excrament be launched into the fan?

As for what he intends doing with all these guns, here are a few highlights from his warpath of the last fortnight:

Firstly, here are some death threats aimed at yours truly:


I_SMASH_FAGGOTS

Joined: 30 Aug 2004
Posts: 108

PostPosted: Tue Mar 29, 2005 6:55 pm
Post subject: Re: More Thor Hammered adventures.

Darp_Hau wrote:
This is something we'll be keeping an eye on.

We are watching you too Matt. Nice to see you replacing your windows with bullet proof glass, you scared? I certainly hope so. You should be.




And


I_SMASH_FAGGOTS

Joined: 30 Aug 2004
Posts: 108

PostPosted: Tue Mar 29, 2005 7:17 pm

Hahaha you think I'm Jason Molloy! HAHAHAHAHA You think I'm the NF webmaster! You should have your intelligence associates in wellington to get their act together, because you don't know jack shit about me! As for you... well thats another matter. Sleep tight. (Try to ignore that black van parked outside)



You will also see on that thread how "I_SMASH_FAGGOTS" quickly removed a couple of JPGS from his posts as the word "MOLLOY" featured prominently in the img tag.

Anyway, why would Jase want to kill me? See, he was kinda pissed over this poem I wrote about him.


Jason Molloy, Jason Molloy,
A dipshit shitscared little boy.
He's the NF IT geek
And a teenage gun freak
His web skills, upon which I frown.
He certainly can't do squat - when the NF site goes down.
He's tough online with his threatening rants.
In person, it's different - on October 23rd, the little cunt SHAT HIS PANTS!

He says, "I'll shoot this person, that guy too"
Aint the little cunt got two fists?
A heart?
And the ability to give someone the old "one two"

Naaaaah, fighting like men, one on one?
With no weapons?
That's not the National Front way
Give em a numerical advantage of 50 to 1
Guns, knives, bats, whips and chains
ONLY THEN - will they enter the fray.

So Molloy, again, you might wanna watch your jib
Tough talking scare mongers are prone to fib.
So your ass-backwards bravado, I recommend you sheath.
Unless that is, you're in the business of losing teeth.


The reference to October 23rd counter-demo in Wellington is priceless. Apparently the little fucker was observed with his head in his hands about to cry his eyes out when the NF guys found themselves surrounded by "hostile forces" with minimal police protection.

Of course, I'm not the only one to feel his ire - my friend Dozer copped this one in his private mail:


From: I_SMASH_FAGGOTS
To: VietCongDeathSquad
Posted: Tue Mar 29, 2005 5:39 pm
Subject: Re: Hey Cock knocker!
When the time is right, we will strike, and strike hard. Be prepared! You anarchist punks won't know what hit you.



Hmmm, now Dozer is a huge Maori boy who just happens to be strong as a fucking bulldozer. Good luck to Molloy and the boyz when they try and take on a guy who can perform the work of four roadies without breaking a sweat.

But wait, there's more. On this link you can see him telling someone that they will be buried alive "VERY SOON." And Here, he informs another anti-fascist group they are "marked", one phone call and they will all "bite the dust" apparently. He informs his soon-to-be murder victims that they "should probably put on a flack jacket" when he comes calling, unless they "prefer a quick death."

It just doesn't stop. Apparently some "socialist retard" has a bullet coming their way. Several in fact, Molloy will "pump that socialist faggot full of bullets." and then he will pop their skull open like the little wank stain they are."

You get the idea.

Why am I bothering dedicating a post to this little fucktard? Well, when the Kiwi anti-fascists gave me the picture and asked me to run it, I kinda needed a pretext to go with it. That and well, I do have some genuine concerns about Molloy's constant rantings about who he is going to kill next.

I'm sure you all heard of the recent Nazi shooting spree in the US. Jeff Weise had an avowed love for Hitler and like Molloy, loved to brag online about how he was going to go out and pump his enemies full of bullets.

Concerned citizens and authorities never caught onto Jeff's online threats until it was too late, in the case of Jason Molloy - you would not believe how many people in various positions of influence are currently watching him like a hawk.

You have to think of the timing. In the wake of the Weise massacre - do you really think a neo-Nazi kid can threaten to shoot people online and get away with it? No siree.

Jason Molloy, like Jeff Weise and the Columbine kids, is obviously a young man with severe cognitive/behavioural issues. Like all neo-Nazi youth, he's an angry kid who is desperately trying to overcompensate for his own inadequacies by blaming all problems on "the other" (Jews, immigrants, Maoris - take your pic) and by creating his own little online fantasy world where he is a TOUGH MAN, a man who will kill his enemies without a second thought, A MAN YOU DON'T WANT TO FUCK WITH, he is able to vicariously live out his twisted and violent fantasies.

Thankfully there's enough people watching him that should he EVER seek to meld his digital fantasy world with reality by actually going out and popping people off with a semi-automatic, he will be cuffed and locked up before you can say einzatsgruppen.

His online "profile" of being the tough guy is something very juxtaposed to his actual reality of being a scrawny, weedy Pakeha kid who has probably been bullied from pole to pole for most of his life. It's a pattern I've observed amongst his Australian counterparts. All of them are frigging bantamweights, all of them are MASSIVE computer game addicts (we know Molloy uses the Asian owned Iplay net caf on Queen St because he engraved "SGT Molloy + swastika" onto the dunny wall there) and all of them have that tortured "deer in the headlights" look about them. Kids like that are easy prey for "bigger bothers" like Kyle Chapman who take them under their wing and offer them the illusion of security, protection and belonging.

It is also interesting to note that Molloy is from a very wealthy part of Auckland's North Shore. Ironic that his Australian counterpart, Goobs comes from a very wealthy part of Sydney's North Shore.

So much for these neo-fascists claiming to be the voice of the working class white man. Speaking of work - some University of Canterbury folk plastered their campus last week with a picture of Chapman walking into WINZ (the Kiwi dole office).

Another key reason for airing this picture is that it is something that should NOT have fallen into anti-fascist hands, but yet the NF are so inherently fucking stupid that it did.

Molloy constantly brags that he is a key player in the NZNF, an integral part of their well-oiled machinery. He designs all their sites and handles all of the NF's online activities. Unfortunately for the NF, he doesn't handle them very well as their website and forum have been hacked and crashed numerous times in the last 12 months with more attacks to come (presumably).

Cue picture:




So, if this guy is an integral part of an organisation that still vehemently denies that it is neo-Nazi in character, what the fuck is he doing here?

Lemme guess: The salute is a "ROMAN SALUTE" and the swastika is actually an ancient rune that means 'life and energy' or something. The flags in the background are supporter flags for the Canterbury Crusaders and the New Zealand All-Whites soccer team.

Well, that excuse beats Kyle Chapman's hurried response to the press when quizzed about this photo:




From the Dominion Post.


National Front president Kyle Chapman says a photograph of him with a
group of men performing a Nazi salute does not show the organisation is
fascist -- he did not know they were doing it.

The National Front disputes claims that it is a racist/fascist

organisation, but at a militia camp meeting in April Mr Chapman was
photographed with a group of saluting men, one of whom wore a swastika
armband.

Mr Chapman says the men had just arrived and he did not know what they
were doing.

"I didn't even know there was a guy behind me with a friggin' Nazi
armband on.

"Those guys had only showed up in a car and wanted to take some photos
and that. I only realised those guys were saluting when I turned
around."


Either way, it looks like there is a change of tack in the winds for the New Zealand National Front. Chipmunk's latest rant on Stormfront features everything you've come to expect from the big fella. He has a vision, he has spirit, he is angry, he is organised, he is READY FOR ACTION!

HE IS ABSO-FUCKING-LUTELY INCOMPREHENSIBLE!


These are just discussion peaces.
The fact is, of they take away our freedoms we have nothing left but to fight.
That is the point I was making. When they leve us no other option.i think we must pursue things politicaly as well. But when they take that ability away, then they take away our rights to freedom and to have aour say and to recruit, and to show when we are unhappy.


WHAT? Run that one by me again.

The message inherent in that whole incoherent thread is that the NF believe that the time for talking is over and that it's time to move into the "action" phase of their campaign. Chapman is "sick of holding back", he wants to "get rid of all the tame people" and "atract the harder men back again" and "will be going harder from now on." He plans to "get on the streets and again" to "show their might." And being twice the media whore that I am, Kyle assures us that "It will be on the news."

As one of their Australian counterparts, David Palmer says in response to the NF change of direction:


In the Spirit of Manoeuvre, it is wise to be cautious about who is informed of anything that will give the Traitors an excuse to apply their new Laws to shut us up.

It goes without saying that anything that gives the Traitors an excuse to lock us up for having the means to defend our Race, needs to be kept on a Need To Know Basis.

When the time comes for direct action, that is the time to SHUT UP!

That's the end of Softly, Softly Propagandising / Posing & Bluffing.

You go underground, totally!

If you don't follow some advice from the books that are available from sources from or about the campaigns by eg: George Grivas' EOKA in Cyprus, or Major Von Dach's book on the cell system etc.

You will all get rounded up in a flash, 100 times quicker than they got the ANM, because the enemy now has the Anti Terrorism Laws, plus we are so infiltrated you wouldn't imagine.


You have NO idea David.

More on Palmer later - lest to say that everyone on the opposite side of the Tasman should be emboldened by the fact that Chapman is entertaining counsel from a 65 year-old Nazi memorabilia salesman, former mental patient and Australia's lone representative of the Ku Klux Klan. Oh, and he's a chef-de-cuisine as well!

At-least Palmer had the presence of mind to encapsulate for me the main reason of why I do what I do.

"Softly, Softly Propagandising / Posing & Bluffing"

is the modus operandi of ALL of these groups. The PYL/Australia First Party, the WPCA, the National Front - you name it. There aint nothing hiding behind the facade but a fuckin big black swastika and a toothbrush moustache. Well, I guess there is a fair bit of fear, xenophobia and insecurity huddled away there somewhere too.

You gonna stand for that shit? No, Fight them back!

Ahem.

The Chipmunk fired off an email to me this morning as well:


From : Kyle Chapman
Sent : Tuesday, 12 April 2005 1:54:49 AM
To : yougotoofarmathew@hotmail.com
Subject : RE: Will we get some media out of it?

Hello Darp

I here you are comming over to NZ?

So the bog question is..... will you come to christchurch?

I bet your too scared to lol. If your not, drop me a line and we can met up.

Kyle



The "bog question" is something that I keep between me and my Metamucil I'm afraid.

Coffee at Globe? You're on. I DO wanna meet up face-to-face before your new plan of action, action, action sees you, in David Palmer's words, "rounded up a hundred times quicker than the ANM (Jack Van Tongeren's mob)."

I'll close this rather long-winded entry with a semi-new NF confession of Nazism. It's a video; "I'm a Nazi and I'm proud of it too!".
___________________________________________________________________________________

Ok, so here is the update I promised.

Not content with quietly forging "a new direction" for the New Zealand National Front, it looks like the boys will be kicking things off with a White Power concert of "monumental proportions." 250 people plus, and guess what? This gig will have a Bledisloe Cup flavour to it.

PRESS RELEASE: National Front & Blood and Honour hosting DEATHS HEAD, Australian neo-Nazi band.

See that link for ALL THE INFO you need on what these guys have been planning. We've known about it for a fortnight or so but have naturally kept things under wraps until we had the situation fully sussed.

So, it looks like the Kiwi Nazis are taking a leaf out of the Fight Dem Back book and are trying to foster some trans-Tasman lovin' by bringing over an Aussie White Power band.

So who are Deaths Head?


DEATHS HEAD:


Genre: Thrash Metal
Lyrical themes: Nazism
Origin: Australia (Melbourne)
Current Status: Active
Label: Panzerfaust



Current line-up


Jesse - Vocals
Andrew - Guitar
Ryan - Bass
Dave - Drums


Sounds like a nice buncha guys. How about some of their albums? Their debut effort Onslaught rocks out hard! Who can forget such classic tunes as Taste the Pain, Blood Debt, Land of the Aryan and Swastika. Their long-awaited follow up album Feast of the jackal opted for a somewhat more melodic approach with less random screaming. This baby features some schmmoooove tracks; Vikings Wrath, Expedition to Coburg and Slaughter Lords being the pick of the bunch.

We believe the fellow on the left in this photo is Jesse, the lead singer.





Deaths Head are affiliated with Blood and Honour Australia and the Southern Cross Hammerskins. From what we know about their NZ gig, it looks like their Kiwi B&H counterparts, Perry Adank and Renee Nelson will be providing most of the hosting duties. Matter of fact, the meeting point for the gig is Renee's house. The gig itself will take place in the Satan's Slaves Bikie Gang clubhouse. Now, knowing a fair bit about Bikies, I don't reckon these guys will be too happy about the amount of media and police attention that is going to be drawn their way over this little soiree. I'm expecting a sudden change of venue to be perfectly honest.

As you'll see on the main info site, Renee Nelson received a phone call from someone (a journo) she presumed to be a skinhead and gave them all the info they needed for the gig. She then smelled a rat and informed them that the gig is off.

THIS IS NOT THE CASE. It's on baby.

Our recently acquired best mate Nick Miller (Wellington White Soldier) expressed his concerns about the gig on the supposedly hidden NF forum:


Should be an awesome gig.

Hope the cops don't find out about it though.

Ok everyone, we better watch what we say.

I don't understand how the police are going to gain access to a locked forum though?

WWS

Jason Molloy (our gun-toting balaclava kid) replied:


They know about it now, because you posted here. Watch what you say in future.

Never treat this forum as secure, our organisations are riddled with police & anarchist informants.


Hmmm...Molloy says something sensible for once.

I've stated previously that this gig appears to be mainly organised by the Kiwi B&H crew but with the amount of National Front involvement starting to show its hand, I'm presuming that this gig is yet another way in which they are manifesting their new, more militant direction. B&H are OPENLY Nazi, they along with plenty of NF members are flying in an openly Nazi Australian band. Yet of course the Chipmunk still maintains in his last email correspondence with me that he IS NOT a neo-Nazi. Pfffft (see end of entry)

One of the main Auckland NF'ers, a guy by the name of Ross Baumgarten from Forrest Hills (AKA Fizx) is planning on driving a car load of Jaffas (Just Another Fuckin' Aucklander) down to Wellington for the gig.

Now, remember how Kyle Chapman stated in this article that the National Front DOES NOT accept immigrants into its ranks?

Well,

Ross Baumgarten IS an immigrant, from SOUTH AFRICA.

I guess you could say, he's a "Jarpie Jaffa" (sorry, you'd have to have lived in London to understand that joke).




Now, what with all the ruckus that the NZNF make over defending their flag, what is one of their members doing showing allegiance to the FORMER flag of another country?

Anyway, I hope he has a pleasant drive down to Welly.

When we first came across this info, we kicked around a number of ideas regarding how to deal with it. Should we just sit back and let it happen? Just let the NF'ers and B&H guys work themselves into a drunken frenzy at the gig so they pour out of the venue drunk on the glory of the horn of Valhalla and commit crimes which will see them before the courts once more? Or should we step in and throw a spanner in the works beforehand?

There are a number of guys we WANT to come to this gig as it will be a breach of their bail bond. If they do attend, they WILL be nabbed. Simple as that. The powers that be have been all over this from day one so don't think for one second that this gig has been able to slip under the radar.

From my end, I'm obviously kinda peeved that some of my countrymen are central to this little shindig. As we did with Jim Saleam, New Zealand Immigration officials have been notified of the pending arrival from Melbourne of Deaths Head and other associated hangers-on.

I've been instructed that it is best if I say no more on that particular matter. Both Australian and NZ customs officials are on the case (mouth zipped shut).

In the end, we decided to kick off a bit of publicity beforehand. As stated in my previous entry, the NF are getting very extreme with their threats of firearm use and we thought it best to let them know just how much police and media attention will be focused on them throughout the weekend. Yep, it would be great to sit back and watch them wind up in court again but not at the expense of our guys getting seriously injured or worse.
_____________________________________________________________________________________



They might not look so pitiful once they lock and load their assault weapons.

It looks like things are heating up across the Tasman.

You will recall on my most recent post concerning the New Zealand National Front that a "change of direction" was in the winds for this organisation. Kyle Chapman was sick of being "good" and sick of trying to win public acceptance for his abhorrent policies and felt that it was time to take some drastic action.

It is time to get militant! And you know what? The Aussie WN's are actually smart enough to not want a bar of it.


Stug111
White Nationalist

Join Date: Dec 2004
Posts: 223
Send a message via MSN to Stug111

NZNF going to war??
I don't know if any one has noticed the NZNF become extreme militant in the last week. Some of the posts I have read on SFuck are bloody scary. Now I'm all for saving our country. But blabbing about it on SFuck is just asking for the TRG boys to come a calling. I am afraid that this may be the last nail in the coffin for NZNF. They keyboard commandoes from SF will run the other way. And any one joining up with NF here will end up in a WA jail cell with JVT. I must say I am a little disappointed with this.


All moderating influences within the NZNF have been weeded out. Kerry Bolton (the Satanist guy) is no longer the national secretary. Bolton, despite being a raving fruit-loop in his own right is actually a very adept political player and at times, was the only thing that held the NF ship together when the younger, more active skinhead element of the group were baying for "ACTION".

It turns out the younger element has won and Bolton has either been pushed (or more likely) walked of his own accord when it became apparent that Kyle Chapman has well and truly lost the plot.

Not all of the younger members were in favour of this new direction, see what Stoi, one of their former high profile members from Auckland had to say yesterday:


Due to a power struggle in the higher ranks of the organization i told you i was a supporter of, the New Zealand National Front, I am withdrawing any affiliation with that group.

The group, once a respectible right-wing party, has decided that going militant to fight ZOG is the best way to do things. The members of the party across the country have been split, some joining a new group being formed that wants to persue the NF's aims through political, not militant means, and the rest staying old NF.


Kyle's "ACTION FACTION" obviously won that power struggle. The big fella is over firebombing Marae's and prancing around the Southland with an unloaded hunting rifle, he's about to do a Neddy Smith, and become a fucking superstar!

Details are sketchy at present (well, they're not actually sketchy, we fucking know EVERYTHING that is going down) but ...there will be things happening later this afternoon that will make my approach here clearer. Let's just say that Kyle's call for a race war in New Zealand has escalated to the extent where we believe LOADED firearms MAY make an appearance over the next few days and weeks.

The NF have begun active harassment of known anti-fascist elements in Wellington and Christchurch and more is expected over the coming days.

A big shout-out to all the punks, slackers, hippies and skaters hanging out at "THE HACK" in ChCh. For the last week, the NF have been trying out their new tactics by sending in goon squads to harass the local kids at this popular youth spot. Eleven of these morons turned up yesterday, one of them leering into an Asian girl and making a fist in her face. Don't stand for this shit guys, get old Bill (the police) on the phone the minute these guys rock up to cause trouble AND MAKE SURE SOMEONE HAS A CAMERA!

Stand firm, don't give an inch, and don't be intimidated. Know that people all over Australia and New Zealand are reading this and are with you in solidarity. Kia Kaha.

MORE UPDATES TO COME LATER THIS AFTERNOON.

Just as all the moderate influences in the NF are leaving, Chapman is doing his utmost to welcome back to the fold all of the extreme-extremist elements whom he shunned whilst he played out his "nice guy" facade. The most prominent of these is the notorious Wellington skinhead, Nick Miller (AKA Wellington White Soldier, Iron Front)

As you can see from that link, Miller is one seriously nasty character. He is in severe trouble with the law over a racially motivated attack on a group of Somali youths and has also been implicated in the hit and run attack on a Maori man in Otaki. Numerous sources have also associated him with the desecration of Jewish headstones.

He was formerly the Secretary of the Wellington NF branch but was excommunicated from the organisation after his arrest last year. Matter of fact, he was damn well outright disowned, Chapman couldn't afford to have people like Miller messing with his "legal" facade. Of course, now that he has thrown off the facade, he is well and truly back in the fold.

See this Punkas thread for more background information on Miller. The first post contains plenty of great links to him shooting his mouth off on Nazi forums about his exploits, which is what ultimately got him arrested.

Nick Miller like most of the net Nazis I have tangled with in recent times, just does not know when to shut the fuck up.

You will also see how I have become his favourite "anti" as he is using a picture of me as his avatar. Nicky boy loves me so much that yesterday arvo he started a blog in my honour:

http:///www.ironfront.blogspot.com (linked from his Wellington White Soldier ID on Punkas).

Don't look for it, like The Electric Banana in Spinal Tap, it's not there anymore. Here are the highlights, I will have the whole site up later today.


Iron Front - Fighting Darpism Since 2005

Darp_hau strikes me as a man who tries very hard to pass himself off as a well-read, intellectual person. Unfortunately he falls very short of his goal and winds up looking rather foolish.

His attempt at making Jason Molloy look even more ridiculous than he already is was laughable!

Fightdemback.com

What a waste of time! Making an entire website just to try and thwart the unstoppable rollercoaster that is right-wing Nationalism!

Darp_hau is at the center of this, and it's likely that he figures himself to be a modern day Messiah of the Left.

Are darp_hau and his communist friends thinking that once their website is up and running we are going to say, "We would have gotten away with it too, if it hadn't had been for you pesky kids and your damn website"?

Is darp_hau this moronic? Sources close to darp_hau inform me that not only is still wearing nappies, but he is totally incompetent when it comes to bath time. Apparently, darp_hau almost drowned in 2cm of water when he was a younger child.

Poems are cool

Darp_hau spends alot of his time writing poems and acting gay. Here is a nice example of poetry combined with threats:

ere at Iron Front, we have decided to try our own hand at a bit of poetry, directed at our good friend darp_hau.

"Hey there darp, with your stupid online blog,
You strike me a a moron, you're thicker than a log.
Shooting you or gassing you? It's really hard to choose,
Wait a minute darp, you'll go the same way as the Jews.

Posting pictures on the web of you without a shirt,
Your tirades against the National Front will only get you hurt.
Strutting round Australia, acting like a wank,
If you enter New Zealand, you'll end up in a camp.

Goodness me darp_hau, how stupid can you get?
When you go off to prison, you'll be used as someone's pet.
You try your hand at poetry, but it stinks! It's really bad!
Perhaps you can't get over the fact that you still blow your dad!

It's time to end this stanza, this poetry and prose,
Where darp_hau will end up, no one really knows.
But I'll tell you this, this informations free,
Darp_hau likes to defecate and eat it for his tea!"

Well thats all for now. But stay tuned into the Iron Front for more groundbreaking news on darp_hau!


Nick interspersed his articles with photos of yours truly. Unfortunately for him, he linked all these photos from sites which I controlled. We replaced all these gorgeous photos of me with this little effort (thanks Dr Cam!)




Well, it's actually a pretty big effort isn't it?

Though I didn't have a stopwatch handy, I'd estimate that Nick's blog was pulled down roughly ten minutes after the photo switch.

You'd think that someone STILL before the courts whose lawyer has publicly gone on the record as saying that their client "has a case to answer", would NOT go online and shoot their mouth off. I mean, a fair bit of this will be taken into account by the courts when assessing his character let alone the numerous instances of where he incriminates himself. But no, Nicky is too freaking stupid to realise that.

He has had a slight rethink in the last five hours or so, aware that his every move is now being monitored by old bill, Miller has started kissing arse to everyone on Punkas so as to make all his vitriolic interjections in recent months seem like a jolly good joke that EVERYONE is in on. Ha Ha Ha, nice one Nicky, too bad no judge or arresting officer is likely to buy it.

I was JUST about to wind this post up when I remembered that I have some highly amusing Kyle Chapman correspondence to share with you. Well, it would be amusing if it wasn't so apparent that the guy has flipped out big-time and looks like going on a freaking rampage in the coming weeks.


From: "Kyle Chapman"
To: yougotoofarmathew@hotmail.com
Subject: RE: Will we get some media out of it?
Date: Wed, 13 Apr 2005 21:52:29 +1200
X-Originating-IP: [203.96.148.32]

Hey DARP

When are you comming over.

Your are being the big man online saying you want to met me, so reply to me and lets arrange it. Im keen as. Its the best news I herd all year.

If you dont met with me you will look like a real pussy.

I never herd of your mate. Must be one of them Fringe possers who never did anything that anyone remembers. My old Mates are still in contact with me. The fakes all droped away and we lost contact with them.
You dont grow out of what you are. You either are or you are not. If he is not now, then he never was.

Its not a fasion, its a way of life.
Life means, for life!!

Kyle
______

From: "Darp Hau"
To: surviveclub@hotmail.com
Subject: RE: Will we get some media out of it?
Date: Thu, 14 Apr 2005 01:50:17 +0000

Chimpie,

You're just gonna have to wait for my arrival. I actually work and my services are very in demand at present. I don't wanna do a piss weak flying visit, I want to spend a good two-three weeks over there so it's going to take some planning.

I am totally keen on meeting up. Considering the fact I'll have a documentary crew with me and all, I'm wondering how you feel about going on camera? "Nice" Kyle was all well and good but I think the "new" Kyle would make for much better footage. Ironic that the "new" Kyle is really just the "old" Kyle who got bored with being good. LOVING the new direction. Believe it or not, you've actually earned a smidgeon of respect from me. I'm sick to death of this "softly softly, we're not Nazis" approach. Just be what you are and say what you think.

I mean, whatever puts you in jail the fastest works for me.

My mate Andy was in Highway 61, whatever the fuck that is. Yep, he most certainly dropped by the wayside when he grew out of that shit. I do have to take whatever he says about you with a grain of salt. Andy has been known to tell the odd porky - like that he played several first grade games for the Highlanders. Hmmm, though another guy I know from Dunedin says Andy actually ran on as a substitute in two games. Go figure.

Please TRY and stay out of trouble - I can't have you killing off my documentary early by getting yourself sent to the bighouse. I also hope this new direction of yours serves you well. Go hard son, GO HARD!

Look at me, I've giving you strategic advice on how to run your movement. Sorry - not my place I know.

Hope you HAVE A BLAST this weekend!

Darp.
____________

From : Kyle Chapman
Sent : Thursday, 14 April 2005 4:56:32 AM
To : yougotoofarmathew@hotmail.com
Subject : DARP is gay!

So you are a fag. I thought you might actualy have some courage. But I was right and you are a coward. Im not interested in meeting you with a TV camera. What we have to talk about there needs noone else around.

So you and your little camera crew can go scare young guys like you are so good at.

The Highway 61 were never ever in the south, the furthermost they ever got was Christchurch. I would go as far to say that your mate is a total liar. The Highway 61 are a Bikie Gang who have nothing to do with the crews I hung with in the past.

I am not a Nazi and my stronger aprouch has nothing to do with Nazi's. Its about doing what has to be done.

When you grow some nuts and can get away from your posser crap, email me. Untill then, enjoy your holiday. I here some of the Aussi boys have some plans for you anyway. So make sure YOU keep out of trouble, ha ha ha.

Its funny how cheeky you think you are while you have the computer in front of you and sucking up to the media. They think your an egg aswell. One of the reporters had a good laugh about you to me.
No one who reads your site would ever take you seriously. As far as Im concerned since you have no balls, there is no point even talking to you again.


Awwwwww ...big tough fat fuck Chimpie wimpie doesn't want to talk to me ever again, aaaaaw, that's sad. And mate, how else do you think a journo who has every intention of fucking you over is going to get your trust? It's called ASS KISSING. And in this case they wrote me off to get a better response out of you ya dipshit.

I honestly thought he would have leaped at the chance to get his mug on camera again but it looks as if Kyle is through with the media, through with "softly softly", through with propagandising, through with trying to be a legitimate politician.

If you ask me, he's just "through" - period.



To all the NZ anti-racism crew; the good hearted and fair minded people of Australia are with you this weekend and beyond. The ANZAC spirit will never diminish. Our forebears fought fascism together on the plains of Europe and the deserts of North Africa. As Woody Guthrie wrote, "People of every colour marching side-by-side, marching across the fields where a million fascists died - you're bound to lose, you fascists are bound to lose!"



_________________________________________________________________________________



SUNDAY, 17.4.05.



See the latest press release. There have been a couple of reports of some "naughtiness" happening in Welly last night but we're still working on putting the events of the evening together.

Today in Wellington, five NF members held a picket outside a old-school leftie meeting:


During the protest activity

elderly members

of the Alliance fraternity/sorority came out of the main doors angry at our daring to express our opinion. They strongly expressed their dislike of our being there. Such was their discomfort at our presence, they even took photos of us, but

we secretly took film footage of them.

Such was their disgust and distrust they even deigned to remove their Alliance sign in case we might just filch it.


Felch it?

Yes, you HAVE to keep an eye on those old-age pensioners. Some of those walking sticks and Ford Pill farts will put you out of commission for a long time. Those electric scooters are probably the worst, they will damn near crush your toe! The NF are wise to film these senior citizens covertly, that way they will suffer potentially lethal heart attacks when they see footage of themselves on REDWATCH DOWNUNDER!

Sheesh, if they're not bullying skater kids in Christchurch, they're pushing around oldies in Welly. What's next? The combined fireboming of a Maori immersion pre-school and a Jewish nursing home?
_____________________________________________________________________________________

19:10 AEST, 21:10 NZ.

Just had confirmation from Wellington that the gig has kicked off. The first band has started playing (not sure which band). Crowd numbers are hard to call at this stage. Stay tuned.
_____________________________________________________________________________________

It's heating up.




Plenty of the main players have been spotted about Wellington this afternoon. Still no confirmation as to whether the Deaths Head gig is going ahead or not.
______________________________________________________________________________________



Scroll down for updates.






A tale from when New Zealanders fought the original Nazis.


With the night came confirmation that they were indeed surrounded by Rommel: "We were told the attack would come with dawn."

The Maori Battalion got together. They decided to strike Rommel's soldiers first. They got their weapons ready. Worked out their plan. Chino and his fellow soldiers stalked up to the German lines.

"We did the Maori Haka [a Maori war dance]. Ka mate! Ka Mate!" The Battalion all chanted in unison. The sound was electrifying, Chino said. It carried on the desert night air. Chino felt the pride of his homeland. The boy became brave.

"Ka Mate, Ka Mate!. We were all doing the war cry. It gave us courage and it scared the Germans. They didn't like it. And we fought to survive."

Chino and the Maori Battalion broke through he Panzer lines. They cut an opening for all the Battalion's trucks and guns. They were surrounded no more.

Of course, the 28th Maori Battalion eventually wound up hounding Rommel out of Africa with some of the most spectacular feats of bravery and warfare cunning. Acts which have been (and will continue to be) mirrored in spirit by the anti-fascist heroes of the shaky isles in their current campaign against the Nazis of today.

It is also rather pertinent to note at this point that many Kiwi white supremacists seem to forget the fact that roughly a third of the people STILL "defending New Zealand" in the Armed Forces are Maori. This simple yet eloquent tribute from a New Zealand schoolboy, best sums up the spirit of the Maori in times of conflict:


The Maori Battalion was held in high regard by both their fellow Allied soldiers and the enemy they faced. Their prowess was acknowledged by allies and enemies alike. A fellow NZ soldier was heard to say of them : "I'd rather fight the German's any day than have to clash with the Maori." The Maori often used very dangerous but very unexpected tactics and despite the fact that some people may have looked down on them for being a "lesser" race, it would have been hard to query their enthusiasm or bravery. The Maori Battalion had a horrendous number of casualties, yet this was not because they were bad fighters. They simply gave everything they had, and so they were admired and feared by most.

______________________________________________________________________________________
My apologies to all my Aussie readers who are scratching their heads over why I'm dedicating so much space to the current events in NZ. Suffice to say that what is going down there at the moment is pretty heavy AND a small group of Australians (Deaths Head) are central to the events of the next 24 hours.

It is IMPORTANT that sources outside NZ put up a flag and alert as many people as possible to the latest activities of the National Front/Blood and Honour. Yep, I'm Aussie born and bred but through my whakapapa, I still have strong emotional ties to Aotearoa. And hey, what better way to commemorate the upcoming ANZAC day by having Aussies and Kiwis coming together to stick it to a bunch of modern day Nazis.

Stay tuned throughout the day as this continuing saga unfolds. Will the Deaths Head gig go ahead? Will the Nazis "miss the bus" or suddenly have a "sick mother"? Will this bunch of Melbourne dropkicks even get past Kiwi customs?

We wait with bated breath.
_____________________________________________________________________________________

Even in this day and age, you come across people in NZ with zero understanding and respect for the role that the Maori have played in defending their country. Hell, you come across with people with no respect for Maori - period. In recent years, many of these people have found themselves within the senior ranks of the National Front. One such guy is their Hamilton representative, Troy Cullinane.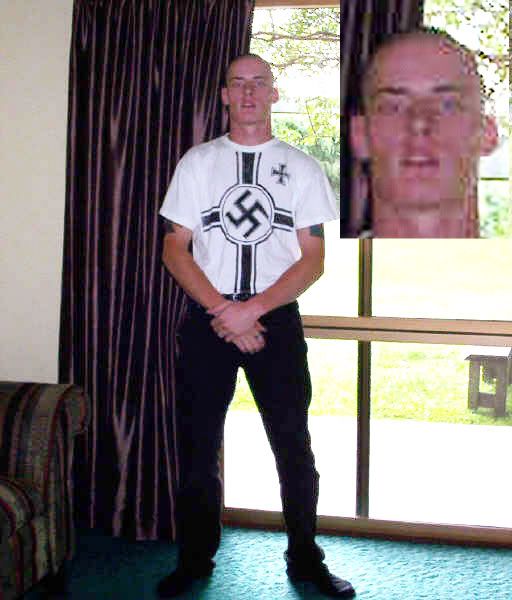 Again we have more uncomfortable questions for the National Front regarding their allegiance to Nazism. The Swastikas are coming thick and fast now. Kyle Chapman will say that Cullinane doesn't really have anything to do with the NF, he's just a hanger-on. Well, we all know this pic:




That is Cullinane on the left holding the NF banner opposite his Fuhrer, the Chipmunk. He must be a very important NF personage to have such a prominent spot in the photo shoot.




But of course, they aren't Nazis. (eyeroll)

Troy Cullinane is expected to join the festivities later this evening so in accordance with their recent policy of harassment and intimidation of pro-multicultural elements (and all the young punk/skater kids hanging out at The Hack), it's time for the NF to reap what they sow. And these are fricking tame pictures by comparison to what else is ready to come bursting out of the vault.

Cullinane is one of the top Maori bashers in the NF and by using that term I do not imply that he would ever stand a chance if he went toe-to-toe with Hemi or Rangi from Rotorua, but that he loves to "bash" Maori cultural symbols. After all, an inanimate sculpture isn't going to hit you back.

Even so, in typical skinhead fashion, Troy and his mates still ganged up on it four to one:


Carving folly ends in jail.

28.02.2004

A judge has described an attack on a Maori carving at the Waikato Institute of Technology campus in Hamilton last August as "disturbing in the extreme" as the carving was without question a Maori symbol with great significance.

Mark McRae, 23, Troy Cullinane, 18, Karl Emslie, 23, and Adrian Owens, 32, all of Hamilton, pleaded guilty in the Hamilton District Court to wilful damage and behaving in a disorderly manner likely to cause violence.

All four were ordered to pay $2500 in reparation towards the $10,000 to $15,000 repair costs.

Owens was sentenced to six months' jail because of his age and previous convictions. McRae and Emslie got 250 hours of community work, and Cullinane 200 hours.


After pulling a stunt like this, it's a wonder any of these boys are still walking upright.
_____________________________________________________________________________________
It looks like many Kiwi neo-Nazis are starting to see the futility of their position. They want to move to a special white homeland away from all the "muds, Jews, spics, poofs and commies." They are currently on Stormfront discussing the possibility of setting up a whites only sanctuary on Mars.

Leinad from Tauranga suggests that "our last hope of establishing a white planet is Mars, as the planet Earth is innevitably doomed."

This provides some interesting hypotheticals. Firstly, if these guys have issues with people of brown skin colour, how will they handle co-existing with people of GREEN skin colour. And hey, the whiteys will be the illegal immigrants so I'm curious to see how they would psychologically adapt to a refugee mind-set.

Ironic don't you think that they're thinking of heading to the RED planet?

I think they'd have a few difficulties. They'd probably wind up protesting against their own presence on Mars and demand "Mars for the Martians."

Jason Molloy is lucky, his deathly pale grey/green skin would see him qualify for refugee status.




These amazingly hi-tech photoshop spoofs are brought to you YET AGAIN, courtesy of Dr Cam Sexenheimer.

______________________________________________________________________________________________



UPDATE 2: Sunday 24th, 2005.



In boxing parlance, this is what you call a straight right followed by a left hook.

Half a million Kiwis woke up to their

Sunday Star Times

this morning and found this headline glaring out at them from page three.


National Front angers Anzac vets


24 April 2005
By GREG MEYLAN and HELEN BAIN

The National Front plans to attend Anzac services around the country tomorrow, outraging the Returned Services Association.

RSA chief executive Pat Herbert has received emails from members who were angry and upset that the neo-fascist organisation would attend Anzac ceremonies.

"The RSA would be obviously

appalled and it would disgust most New Zealanders. New Zealand does not need groups like these

," Herbert said.

The RSA could not stop National Front members attending services but "they certainly will not be welcomed if they come flying their colours".



Herbert said the National Front represented everything Anzac soldiers had fought against.





"The incongruity of this is that those who belong to this organisation with its warped ideals and statements about supremacy also claim they'll be there remembering family members and relatives who put up the supreme sacrifice fighting the ideals they espouse."



National Front director Kyle Chapman said its members attended Anzac Day Services every year, and planned to do so this year. He would attend Anzac services in Christchurch with other National Front members.

Chapman said groups of up to 15 National Front members had attended previous Anzac services with no problems.

Members did not plan to "make a spectacle of themselves" this year with ostentatious insignia, flags or National Front regalia, "but there will always be one or two with (National Front) T-shirts".

Chapman had never heard of National Front members being unwelcome at Anzac services, and they had even been invited to RSA clubs for drinks afterwards.

On the international white nationalist website Stormfront, Chapman says "elite German units spoke highly of the Anzac soldiers" and urges supporters to "show that we have not forgotten them, fly our flags proudly".

Chapman said the National Front had been "working hard" to remove members who promoted pro-Nazi views and displayed Nazi emblems such as swastikas - or at least tried to get them to cover up swastika tattoos.

One member, Nicholas Miller, who has been charged with an attack on Somalian immigrants, was expelled last week.

However, fascist and white supremacist views are commonly posted on websites by New Zealand National Front members and sympathisers.

One person from Waikanae calling themselves waffen-ss-panzerkommando, after a WWII German tank unit and the Nazi secret service agency, says "not only is Anzac Day a time to honour our men who died bravely defending their nation from the Yellow Scum in the Second World War, but I also believe it creates a bond between Australia and New Zealand - two white brothers who share a lot of things in common".

RSA members said they found such views abhorrent and an insult to fallen soldiers.

Wellington man Barrie Sargeant, whose grandfather fought in World War II and spent years in German POW camps, said he was deeply offended by the presence of the National Front at services.

"I am sure that many will share my revulsion at this attempted desecration of a national day of remembrance for the thousands of soldiers who lost their lives fighting fascism."

Another Wellingtonian, Robert Trigan, who is Jewish but not an RSA member, said he complained to the RSA, saying the National Front's presence would be outrageous and insulting.

The president of Chapman's local RSA in New Brighton, Geoff Butler, said it was fine by him if the National Front attended Anzac services.

"I've never heard of the National Front, but if they want to attend a public parade then they are welcome like anyone else, so long as they are orderly and respectably dressed and behave themselves," Butler said.

"I told them definitely no protest signs or anything like that. We have the boy scouts and girl guides come along with their little banners and bouquets, so I expect they will be just the same. As long as there is no hanky-panky they can do whatever they like."


Hmmmmm.

Chapman spent most of yesterday claiming that tentative MSM pre-emption on my part "was more of Carp's lies!" That the RSA not wanting the NF to turn up to the Anzac Day dawn service (Kyle called it a "Dawn Parade") was all a part of "Darps little dream".

Today, in response to that article, the Chipmunk has officially blown agasket.

Interesting to see that our mate Nic Miller has officially gotten the boot once more. Don't fret - the next time that Kyle gets bored with playing politician and wants to go back to playing paramilitary soldier - his old mate Miller will be back in the fold faster than you can say

waffen SS panzerkommando.



Kyle Chapman WILL be in attendance tomorrow in ChCh. Let's hope he keeps his own IRON CROSS tattoos covered up.
_________________________________________________________________________________________



UPDATE:



The Newcastle Synagogue copped a nasty Hitler's Birthday present during the week. Charming slogans like "Six million must die" and "Hitler was ere" complimented a couple of smashed windows and ALLEGEDLY, according to one of my readers - a swathe of White Pride Coalition of Australia stickers.

Could the person who aired this allegation please back it up with something plausible like a MSM mention of these stickers, photos of them or an official comment from Newcastle police as to what EXACTLY was found at the scene of this crime.

The WPCA are of course screaming "set-up". Personally, these guys aren't very active in Newcastle but we all know who is.

I'll be watching to see how this pans out.
_______________________________________________________________________________________________________

BIG NEWS.

Ears to the ground over the weekend people.

With regard to The New Zealand National Front's declared intent to stage a "national presence" at Anzac Day dawn services, expect an ANGRY response from the Royal New Zealand Returned Services Association (RNZRSA - the Kiwi RSL) some time over the weekend.

It's not my place to speak on behalf of the RSA so you'll just have to wait for the full story. Needless to say that these old soldiers "oppose the National Front and all that it stands for."

Capiche boneheads?

Have youselves a nice sleep-in on Monday morning cos you won't be welcome at Dawn Service. posted by Fightdemback @ 8:00 PM